15 March 2018
We often think that January 1st is the perfect time of year to start a new health and fitness routine, #newyearnewme but realistically the silly season often continues into January and then a little into February then by the time we realise it's March we're only just beginning to find our feet again (or at least peer over fe(a)stive season pouches down towards where we used to be able to see our toes - No, just me?).  
As Easter rolls around and friends and families come together to enjoy a long weekend away camping, we start to think 'yeah why don't we do this more often?'. Good question, so why not kill two birds with one stone and actually use that break to reassess your health and fitness routines and find motivation once again to get them back on track by motivating yourself with a can't-change-the-date lock-it-in-Eddie in 'fit-cation'.
Whether that's a triathlon, running, mountain biking, cycling, surfing, SUPing, trail running, hiking, kayaking, or other multi-sport challenges. Set your expectation to then enjoy the reward of achieving your goal with a holiday tacked on the end. Now that's a win-win.
To help the motivation along during the cooler months, do yourself a favour and choose a fit-cation destination somewhere considerably warmer, that will provide a nice mental escape during the early morning F45 or swim sessions - somewhere like the sunshine state - Queensland!
Wellness/fit-cation holidays in Queensland can suit any budget and fitness level from stand-up paddle (SUP) yoga retreats to beginner mountain bike adventures, guided hikes, beach meditation and snorkelling safaris. Here's a list of events to choose from and mark your calendar with, including everything from challenges you can totally tackle as a beginner through to elite competitions: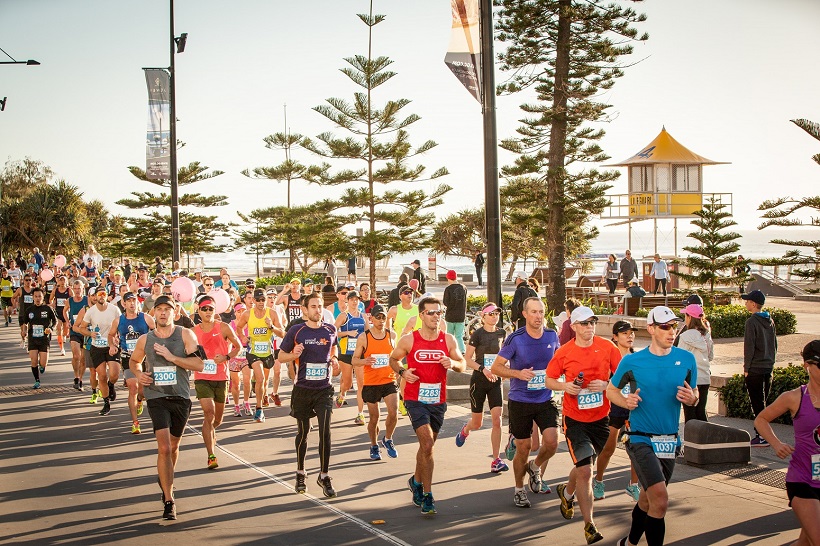 Gold Coast Marathon. Photo: Tourism and Events Queensland
Classic Annual Events (with 2018 dates)
Julia Creek Dirt n Dust Festival - 13 – 15 April 2018
The Julia Creek Dirt and Dust Festival now offers visitors three jam-packed days of fun and entertainment with the main triathlon being the crown jewel. Experience ridgy didge outback hospitality in the tiny North West Queensland outback town of Julia Creek.
Cooly Classic Ocean Swim - 13 May 2018
The Cooly Classic offers competitors a rare opportunity to conquer three of Australia's most revered surf breaks – Snapper Rocks, Coolangatta and Kirra.
If you're a seasoned swimmer or aspiring triathlete, the new 3-kilometre course is a great opportunity to test yourself beyond the typical open water distances.
Tropical North Queensland Green Island Reef Swim - June 7 2018
There's no more beautiful endurance challenge event location in the world than the Great Barrier Reef. This unique event has a 500m, 1.5km and 3km swim.
Cairns Airport Adventure Festival - 10 June 2018
The festival features an event for everyone, including; IRONMAN 70.3 Cairns, Great Barrier Reef Ocean Challenge, Quicksilver Reef Swim – Green Island, The Cairns Post Bright Night Run and McDonalds IRONKIDS Cairns!
The Gold Coast Marathon - 30 June to 1 July 2018
Its famous flat, fast and scenic course located alongside the city's renowned surf beaches and stunning broadwater plus ideal winter running conditions featuring low humidity, little wind and mild temperatures result in 60 per cent of participants achieving personal best times each year.
IRONMAN 70.3 Sunshine Coast - 26 August 2018
Perfectly located in the heart of Queensland's Sunshine Coast, Mooloolaba Beach offers the perfect year-round climate and is an ideal location for Ironman 70.3 Sunshine Coast.
Tropical Journeys Great Barrier Reef Marathon Festival -28 October 2018
The Tropical Journeys Great Barrier Reef Marathon Festival held in Port Douglas is the largest marathon and running event in Tropical North Queensland, attracting over 5,000 participants and spectators from all around Australia and 13 different countries.
Noosa Triathlon Multi Sport Festival 31 October – 4 November 2018
Noosa Triathlon Multi Sport Festival is a five-day hallmark event, based in Noosa on the Sunshine Coast, Queensland and includes a stacked line-up of events for all ages and abilities.
Wanderlust Sunshine Coast - TBA November 2018
Wanderlust is the only event of it's kind in the world. A multi-day celebration of internationally renowned yoga, guest speakers and leaders in green-living, music from world-class musical acts, top chefs, craft brewers and winemakers.
Hamilton Island Whitehaven Beach Ocean Swim - 18 November 2018
Pristine white beaches. Crystal clear waters. The Hamilton Island Endurance series spans four endurance events. The Stamford Financial Hamilton Hilly Half Marathon, Great Whitehaven Beach Run, Hamilton Island Triathlon and Hamilton Island Whitehaven Beach Ocean Swim will test athletes on every level.
New Events Launching in 2018
Listening to endurance event regulars and those wanting to dip their toes in the water, Queensland is offering up a host of new family-friendly events ripe for your next fit-cation in adventurous, bucket list destinations. These include:
Reef to Reef - 9 to 10 August 2018
For four days in early August, Reef to Reef brings mountain biking goodness to the home of one of the worlds most famed and fabled natural playgrounds, Port Douglas. Around 200 kilometres of riding and 4000 metres of climbing on the kind of trails and scenery you normally only read or dream about.
Runaway Noosa Marathon - 26 May 2018
On the Sunshine Coast, the Runaway Noosa Marathon is one of the newest marathons to launch in Queensland. Running with a flat, fast and friendly multi-lap on road course that starts and finishes in the heart of Noosa township so you're never far from fellow runners, supporters and the on-course entertainment.
---
Still got energy to burn? Check out Flight Centre's sports and events packages that can get you and the whole family to some of the biggest active events around the world including events like the Noosa Triathlon and ITU World Triathlon Grand Final on the Gold Coast.
---
Other Travel Articles You Might Like...