4 June 2019
We recently took some of our expert Flight Centre travel consultants and creatives over to the UK to shoot an exciting new video project in the hip British city of Manchester. (You can check the video out here!) The crew was lucky enough to stay at IHG's newest property, Hotel Indigo Manchester, Victoria Station, which was an ideal base for the busy crew. While they weren't out on location, they made the most of the hotel and its shiny new amenities, returning home with glowing reviews. 
Read on for a few first hand highlights from the Flight Centre crew's time at the hotel.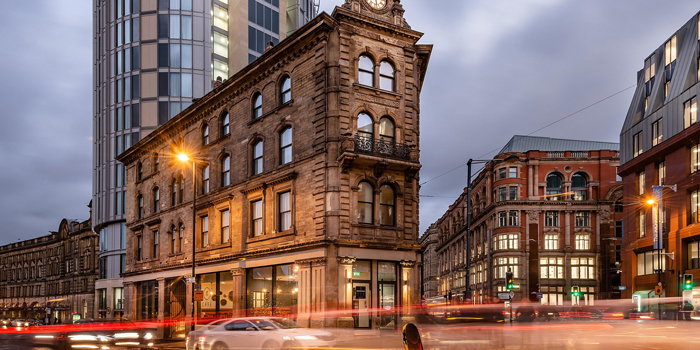 Hotel Indigo is within walking distance to a huge range of pubs, restaurants, museums and great shopping
The Hotel
This hotel combines modern elegance with the practicality of guest needs seamlessly, whilst being tastefully reflective of the city's industrial heritage.
"Arriving after a 30 hour transit from Australia's East Coast, the hotel was a very welcome sight for sore eyes and weary bodies. From the minute we shivered our way into the stylish lobby with its towering atrium void and basket lights, we were warmed and welcomed and immediately felt like we had a new home." Jess Holmes. Video producer, Flight Centre Travel Group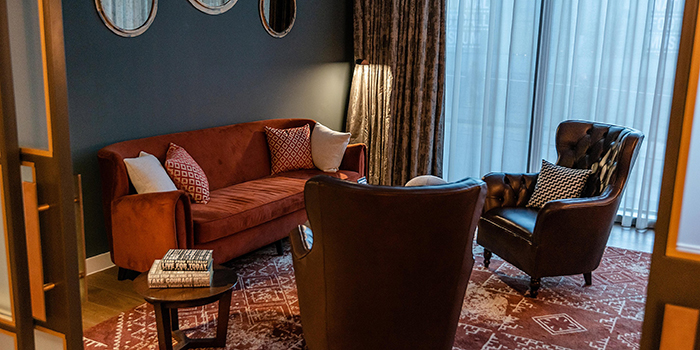 The welcoming lounge, the perfect place to wait for that taxi, uber or just take a minute to relax
Location
"The hotel is in a prime position, located on the border of the city's medieval Northern Quarter. A huge attraction is its proximity to Victoria Station, about a minute's stroll, suitcase in tow. It is also within walking distance to the city centre, bars and restaurants for all budgets, and a great range of shopping. There is a Harvey Nichols, Selfridges and a few boutiques closeby, as well as a TJ Maxx and a huge Boots for any forgotten necessities. For football buffs, it is directly opposite the National Football Museum, which is definitely worth a look. We were also told that the hotel is within walking distance to the pub that serves up the cheapest beer in Manchester, we can't comment on the quality, but it's one to tick off the list!" Jess Holmes, Video producer, Flight Centre Travel Group.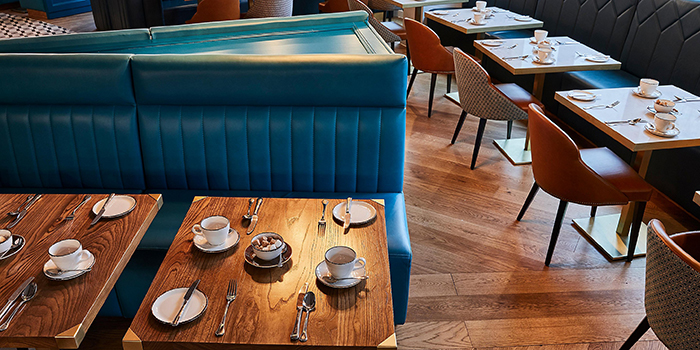 Mamucium's modern-industrial style seating is spacious and comfortable
Rooms
The designers have taken inspiration from the city and it's industrial history. The decor is reflective of the tea, printing and cotton production, right down to the room prints and side lights.
"The rooms at Hotel Indigo were a welcome sight after a long haul flight. The modern decor and simple touches made it a feel a home away from home. The beds were very comfy and the pillows were lush! I particularly liked the bathroom which had a huge shower and all the amenities you could possibly need." Pete Heslop, Consultant Trainer, Flight Centre Travel Group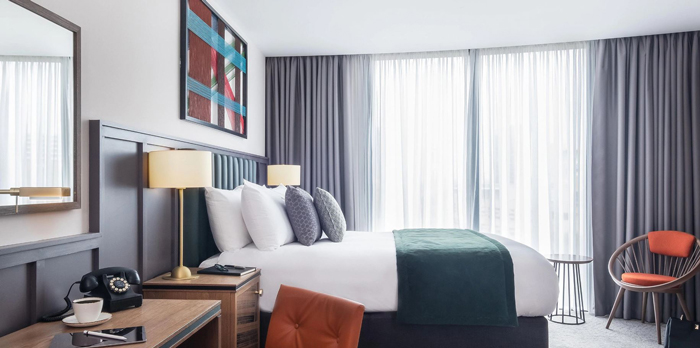 All rooms are non-smoking for guest comfort, and fitted with a practical work desk, free wi-fi and a spa-style bathroom
"After a long 24 hours plus of travel from Australia, stepping into my room at Hotel Indigo was the best thing I could have wished for! The room was cosy and had plenty of space for my luggage and a fair bit of work equipment. The layout of the room was modern and comfortable, the design was considered and well finished. I look forward to returning to Hotel Indigo next time I visit Manchester and will definitely recommend the hotel to my colleagues, family and friends!" 
Rich Wang, Contract Cameraman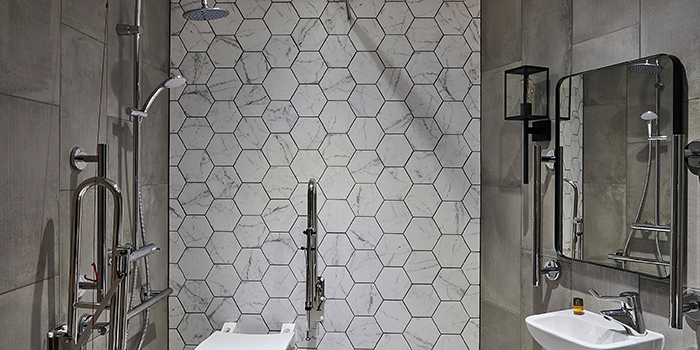 The Hotel's modern bathrooms are all fitted with a hair dryer, bath robe and luxury toiletires
Service
"The level of service at Hotel Indigo was second to none. They remember us in less than 24 hours, were warm and friendly and effortlessly assisted wherever they could. From dinner bookings, help with luggage, taxi services or just some local insight, they did everything with a kind smile". Jess Holmes. Video producer, Flight Centre Travel Group
"Highly commend the staff! They were very welcoming, professional, and consistently friendly throughout our stay. They really accommodated our needs, and went above and beyond to make our experience memorable." Zade Allen, Flight Centre Consultant, WA
The inviting bar at Mamucium
Restaurant - Mamucium
Mamucium is a very bohemian, welcoming space, with a huge range of seating options from the bar to high tables or lounges. Offering signature dishes created by award winning chefs, they utilise the regions produce to perfection. The Flight Centre crew eat there almost daily, becoming very friendly with the friendly and accommodating staff.
"I was impressed by their delicious breakfast selection, offering both a self serve banquette of incredible breads, juices, meats and organic muesli, through to an a la carte menu that was always fresh and hot. For dinner, Mamucium's menu is diverse enough that we could eat there multiple nights during our stay, without having to choose the same item twice. The vegan offerings were particularly impressive, and you can tell that they have sourced a large portion of the produce locally." Luke Wheatley, Head of Brand Marketing, Creative & Content, Flight Centre Travel Group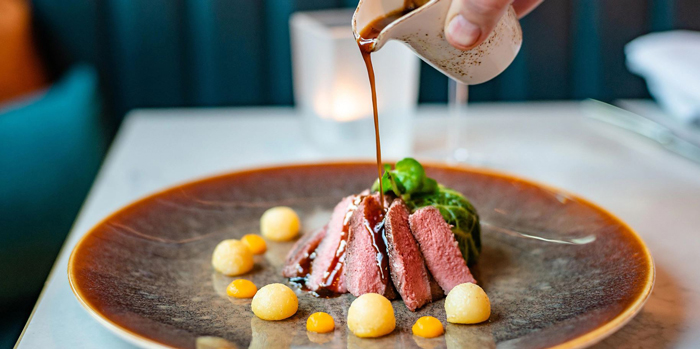 Locally sourced produce is used throughout Mamucium's specialty menu
Other Travel Articles You Might Like...