24 August 2017
Thailand is known as the Land of Smiles, and this Southeast Asian nation is certainly friendly to your wallet, making it a perennially popular holiday destinations for Aussie travellers.

Travel Money Oz are the experts when it comes to foreign exchange and can help you get more bang for your Thai baht. With tips from the travel money experts, check out our guide to what to expect on your Thailand holiday from everyday costs to the best exchange rates and market haggling tips.
Know What Costs To Expect
Little things can add up on a holiday. Once you've paid for your flights, accommodation and tours, it's good to know what to budget for day-to-day items such as drinks, eating out and getting around. We recommend starting with the basics – knowing the everyday costs you can expect on your Thailand holiday.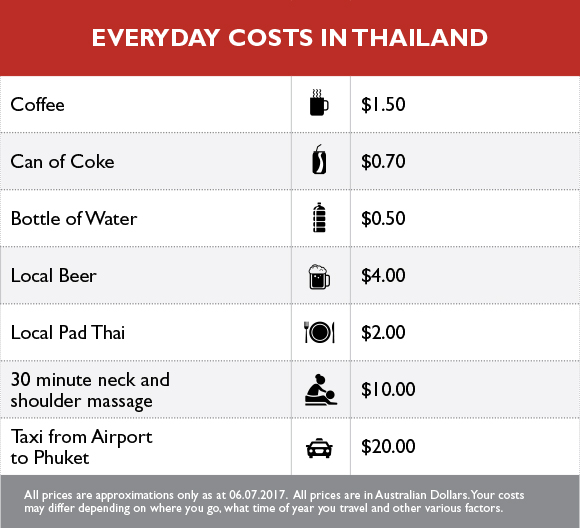 Know How To Haggle At The Markets
Bartering is not only an acceptable practice in Thailand, it's expected! Haggling is restricted to markets, street stalls and small shops, though – don't attempt to negotiate on price at a department store or a shop where signs discourage bartering. Once you've got the basics down, have fun with your interactions – it's a win-win for you and the stallholder.
 Get an idea of the price of what you want to buy before you barter.
 Know what you are prepared to pay, ask for the price then offer less. The rule of thumb is to offer 50 per cent of the asking price and work up to your desired price.
Be clear and decisive about what you want, but keep it polite and friendly. Is it really worth bargaining over tiny amounts?
Buying power ­­– see if you can negotiate a cheaper price if you buy in bulk, ideal for all those souvenirs!
Separate your notes. Keep some smaller baht notes handy for drinks and little items so your larger banknotes are not on show.
Know How To Get The Best Thailand Baht Rate
When is the best time to get the best exchange rate is a question that often comes up, but as foreign currency rates change daily, it's hard to know. As the foreign currency experts, the team at Travel Money Oz can ensure you're getting a good rate, and what to avoid doing.
Things Not To Do:
1. Leave your foreign exchange to the last minute and buy your currency at the airport.
Avoid high commissions and fees and not-so-great exchange rates at the airport by pre-purchasing your Thai baht before you go. You can order online or in store, and even set up a Currency Alert, which allows you to pick a rate you'd prefer and Travel Money Oz will email you once the rate hits that mark.
2. Rely solely on your bank.
Yes, your bank knows money, but there's other options to buy your foreign currency.  Don't gamble that your bank will have your desired overseas currency on hand – often you'll have to wait several days for the currency to arrive and may be charged an additional commission fee on top of the base exchange rate.
3. Put all your money on the one bankcard.
When you travel, it's a good idea to carry your money in different formats so you're not caught short if your bankcard is lost or stolen. We recommend using a mixture of methods, including cash, credit cards and travel money cards. Key To The World is a pre-paid travel money card that allows you to loaded up to 10 different currencies, including Thai baht. These currency cards can be used for services and in shops like a credit or debit card, and also to withdraw your own money from ATMs. These cards are handy as you can lock in the exchange rate when you preload your currency, so you are not subject to varying rates.
For more info on all your Thai baht needs, chat to the experts at Travel Money Oz.
All images: Getty
---
Visit your local Flight Centre store or call 131 600 for more advice and the latest deals on travelling to Thailand.
---
Other Travel Articles You Might Like...