12 June 2015
Words by Carlie Tucker
Etihad is known for paving the way in luxury at 40 thousand feet. The award-winning airline is behind The Residence, which , among other things, provides lucky travellers with three private rooms to 'live in' for the duration of their long haul flights. Featured across the airline's fleet of A380s, this spacious layout is just the tip of the luxury iceberg.
Passengers will also enjoy the service of an exclusive Etihad Airways Butler, and the newest crop of 12 service professionals have recently completed their Savoy Academy Training. It marks only the second group to have completed the intensive course, which is conducted by the London School of Hospitality and Tourism at the University of West London in conjunction with the Savoy Hotel.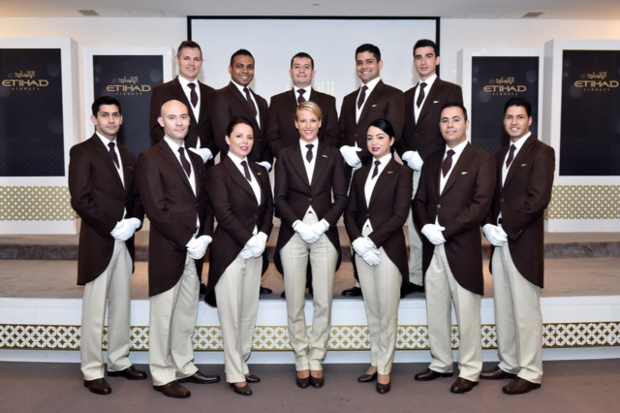 Combined with the experienced gained from performing as food and beverage managers onboard Etihad Airways's long-haul fleet, this program is an intensive course that includes shadowing the world-renowned butlers of the Savoy Hotel under the guidance of the hotel's Head Butler Sean Davoren. The syllabus also includes international protocol and etiquette, VIP guest care, valet skills and organising travel arrangements.
Linda Celestino, Etihad Airways Vice President Guest Services, said, "These highly skilled and talented professionals have successfully completed a challenging program which has provided them with all the knowledge and the tools necessary for one of the most unique roles in the airline industry. They are the ultimate ambassadors for the Etihad Airways brand, and will bring to reality the airline's vision of providing a totally reimagined travel experience for the discerning guests flying in The Residence by Etihad. We are very proud of them."
Speaking of the program, newly trained proud Etihad Butler, Varan Rawal, said, "I am expected to redefine luxury and set new benchmarks in hospitality byusing the skills I acquired at the Savoy, and the experience gained over the two years I have been with Etihad Airways. The highlights of the training for me were the visits to stores with Royal Warrants, which cater to the needs of the Royal Family, and the attachment to the Savoy Butler. This gave me an incredible insight into the dedication and professionalism needed to carry out my new role in The Residence by Etihad."
The newly trained crew will join in on the luxury experience offered by The Residence, rounding off a  complete luxury experience. 
Other Travel Articles You Might Like...