13 January 2016
Words by Claire Wrathall
A host of leading hotels is offering unparalleled luxury in the sky, with private-jet trips to some of the world's most beautiful destinations.
Touring the world by private jet is not in itself a new concept. An Australian company, the Captain's Choice, has been selling such experiences for two decades: world tours typically lasting three to four weeks that take you from, say, London to Sydney via Havana, Panama, Peru (for a short cruise on the Amazon), the Galapagos, Easter Island and Tahiti. Should such a trip appeal, the next one departs on 23 August 2016, and fares start at £27,140 ($56,000AUD) per person.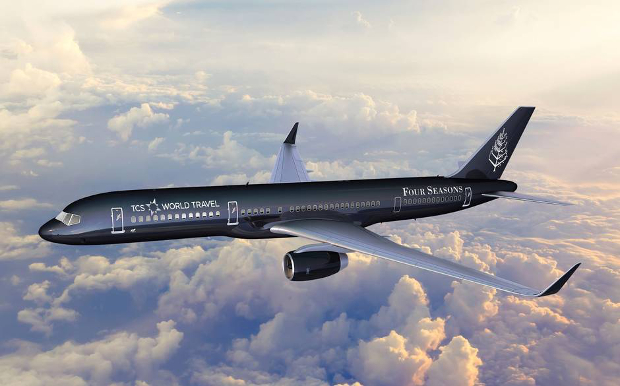 Put from your mind, however, the idea that you'll be travelling in a Learjet or its equivalent. The plane in this instance may literally be a private jet insofar as it has jet engines and is privately owned, but it's actually a familiar Boeing 767-200ER (the initials stand for 'extended range') fitted with 100 seats of the sort found in business-class cabins that convert into flatbeds (ordinarily a plane like this run by a commercial airline would have 181 seats).
Four Seasons Hotels also offers "private jet experiences" on a customised 757-200ER configured to seat 52 on lie-flat sleeper seats. For obvious reasons it flies only to destinations where Four Seasons have hotels – you overnight on the ground not in the air – and the entire 24-day world tour takes in nine countries (from $132,000 per person). The same aircraft, with its livery changed, is also used by the luxury aviation company TCS to facilitate additional private jet tours that take in a number of different properties and itineraries.

Indeed aviation is a world that an increasing numbers of hotel brands are aligning themselves with. Taj Hotels has a sister operation called Tajair with a fleet of long-range Dassault Falcons and a Piaggio P.180 Avanti, available for bespoke itineraries (prices on application).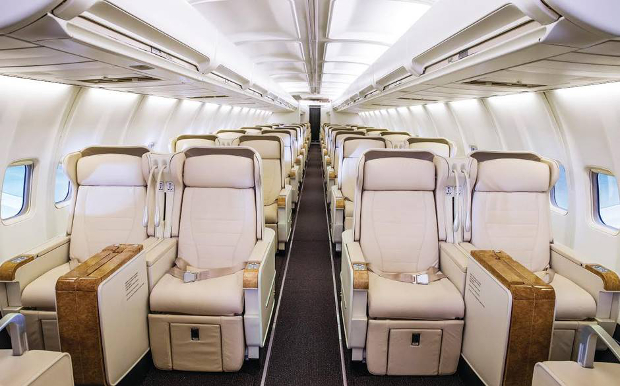 And next March, Aman will raise the bar to new heights with the launch of its first "private jet experiences", short tours of Asia on a Gulfstream, catering for groups of no more than 16, sometimes as few as eight, over-nighting at the Aman Resorts in Vinh Hy Bay, Vietnam ;Siem Reap, Cambodia, Luang Prabang, Laos; Palawan in the Philippines; and Tokyo (once on the ground each couple will have their own guide and driver.) Prices start at about $60,000 per person

Meanwhile, a British company founded last year, Private Jet Tours is positioning itself as, says its founder and managing director, Jane Bartelings, "the only aggregator, we believe, of tours by private jet in the world (intended) to create a central point where travellers can look at the range of tours on offer". The dozen options currently on offer include some of the above as well as itineraries run by Abercrombie & Kent and Travel Guild and TCS, and they will also organise private tours.

Among the most intriguing of its own offerings is a week-long homage to the baroque painter Caravaggio, which departs from Luton Airport on 17 April 2016 (guests will convene for a dinner the night before at Luton Hoo, the stately home turned hotel and spa ).
From there, they will fly to Rome, where private access to and indeed dinner at the Galleria Borghese has been arranged, and thence to Malta (not only Valletta, but Vittoriosa, Cospicua and Senglea) and Sicily(Catania, Messina, Taormina and Siracusa). Like Four Seasons it will use a Boeing 757-200, fitted with 50 sleeper seats (though each night will be spent in a five-star hotel). Prices start at £10,995 per person, based on two people sharing. The sky's the limit.
This article was written by Claire Wrathall from The Daily Telegraph and was legally licensed through the NewsCred publisher network.
Other Travel Articles You Might Like...