18 October 2017
It's train travel, but not as you know it. Britain's grand rail journeys elevate the everyday commute, showcasing scenic panoramas in a regal setting. And, you don't have to be a parka-clad trainspotter to get on board.
Travel back in time on vintage carriages and luxury trains where the journey is the experience. In part one of the 'Train Spotting in the UK' series, Sandy Guy steps into the private luxury carriages of the Belmond British Pullman.  The opulent interiors and refined parlour cars carry passengers of the Venice Simplon-Orient-Express train, between London and Folkestone, as well as operating day and weekend journeys around Britain. 
Words by Ffion Lloyd-Jones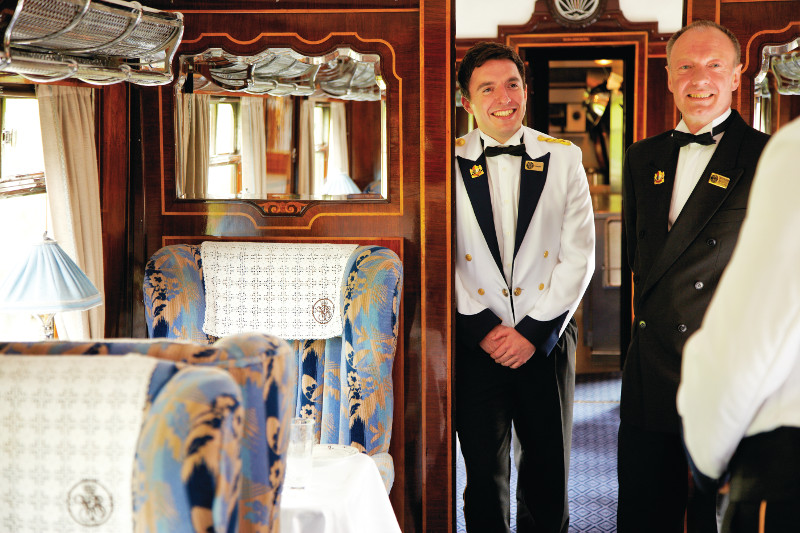 Service with a smile aboard the Belmond British Pullman
Belmond British Pullman: London to Folkestone
The Grosvenor Hotel has its own private entrance to the concourse at Victoria Station, one of London's grand 19th-century rail termini. A French Renaissance inspired palace of pink marble staircases and chandeliers, the recently refurbished hotel, which opened in 1862, couldn't be a more fitting place to begin a journey on another legend from a bygone age, the Belmond British Pullman. After checking out of The Grosvenor Hotel, my partner and I stroll to Platform Two, where a cluster of people are dressed 1920s-style – cloque hats, silky dresses, fur wraps – as they wait for the sister train of the equally glamorous Venice Simplon-Orient-Express.
Originally conceived as 'Palaces on Wheels' by George Mortimer Pullman, who built the world's first luxury railway carriage in 1864, the British Pullman's 11 parlour cars are original masterpieces dating from the 1920s and 1930s. The excitement is palpable as the train's chocolate-and-cream carriages glide into the station, hauled by a diesel class 67 EWS locomotive (some journeys use steam engines). From a range of tempting destinations across England we have opted to travel to the Kentish town of Folkestone to combine a ride on one of Britain's grandest trains and a favourite Edwardian seaside resort. Each Pullman carriage is different – from the opulent Phoenix, favourite of the late Queen Mother, to the Art Deco Zena, used in the film Agatha about Agatha Christie.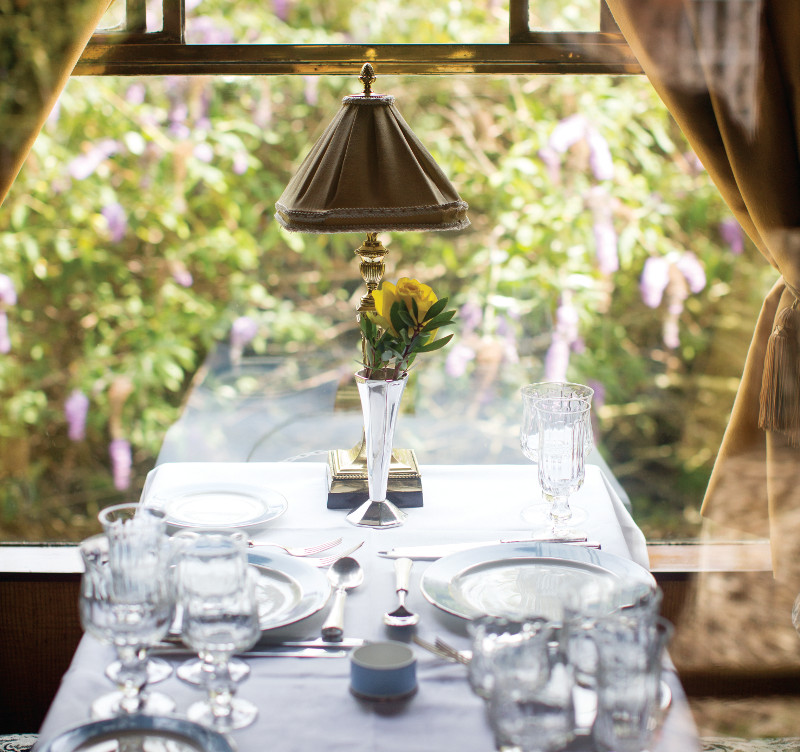 Here's cheers to a silver service brunch
Our carriage, called Cygnus, was designed in 1938 as a first-class parlour car. Featuring Australian walnut panelling and intricate mosaics, the sumptuous carriage is often used by British royalty. Feeling like royalty ourselves we sink into brocaded armchair-like seats; it's quite something to be cocooned in such luxury as the train trundles through London's sprawling suburbs on the two-hour journey to Folkestone. Frock-coated stewards serve Champagne with a silver service brunch of fresh fruits, pastries and creamy scrambled eggs as the verdant English countryside rolls past. Travelling aboard a vintage train is an indulgent journey into Edwardian nostalgia: after a tour of historic Folkestone we almost expected to see the likes of Hercule Poirot waiting to board this magnificent train for the return journey to London, enjoying, as we will, a traditional English afternoon tea on the way.
Next Train Spotting in the UK instalments: Belmond British Pullman - Edinburgh to Aberdeen and Ffestiniog & Welsh Highland Railways
Other Travel Articles You Might Like...
Talk to a First & Business Class Expert