Driving The Mother Road: How To See Route 66 On A Budget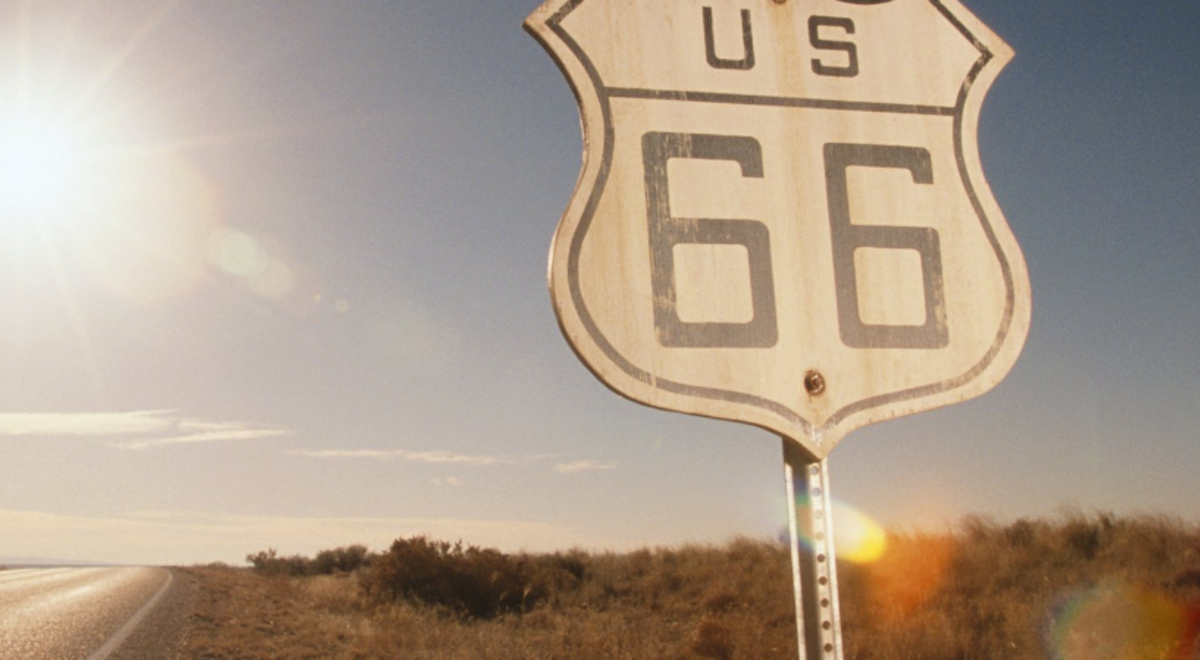 ---
---
After more than 80 years, the United States' Mother Road continues to lure road-trippers keen to rent a car and chase down some good old-fashioned freewheeling fun. While the updated interstate system, known as the Will Rogers Highway, may have fundamentally changed the way people drive between Chicago and Los Angeles, there's still enough rundown gas stations, homely diners, rib joints, dive bars and snap-worthy roadside oddities to keep the inimitable spirit of Route 66 alive.
Experience a rugged journey of extremes where ramshackle cowboy towns line the road to the glitz of big cities like Las Vegas, and the Midwest's rolling prairie and corn belts give way to the stark rock formations of the Arizona Desert and Grand Canyon.
Highlights:
Don't miss the Cadillac Ranch sculpture in Amarillo.
Get snap-happy on the Walk of Fame in Hollywood.
Visit Abraham Lincoln's home in Springfield.
Take in Acoma Sky City's cultural centre and Haak'u Museum.
Tip your hat at the Cowboy Hall of Fame in Oklahoma City.
Stop in at the Dinosaur Museum in Tucumcari, and check out the city's 17 life-size murals.
Pull in for a meal at the Comet Drive-In, then admire the historic buildings in downtown Santa Rosa.
Check out the best preserved section of the route in the Southwest in Arizona, including the main street of Kingman (the largest town on the route).
How much will it cost?
The advantage with road-trips, no matter how legendary, is they can be as cheap or as luxuriant as you like. Because where you stay, how you get there, how long you take and what you do in between is entirely your call, there's no set cost to doing Route 66.  But, if you're like most travellers and choose a middle ground between hitch-hiking on a diet of Diary Queen and splurging on a Lamborghini car rental, a budget of A$250-$350 per day for two people with adequate travel insurance sharing a room every night is a good ballpark. This rough budget will save you money while still allowing you to enjoy modest but comfortable car rental and accommodation.
What's the best time of year to do Route 66?
If you travel Route 66 between May and September you'll cash in on the best of the weather. The northern hemisphere spring and summer months offer the best driving conditions, though between July and August searing daytime desert temperatures through the New Mexico, Arizona and California legs of the route can get a little uncomfortable. Anyone accustomed to the continental cooker conditions of the Aussie outback should know what to expect.
We don't recommend a winter trip along Route 66 as icy conditions are common between December and February and heavy snowfalls often close roads.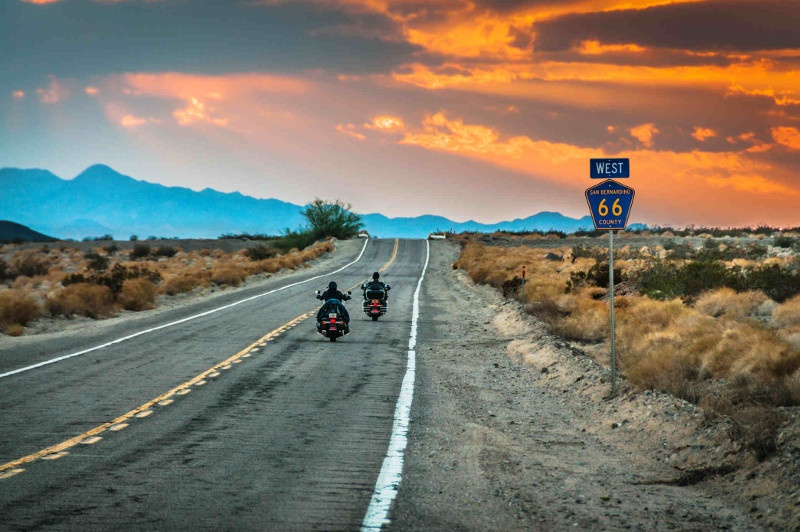 Day 1 & 2 – Chicago
Arrive at Chicago's O'Hare International Airport and spend your first couple of days experiencing mile after magnificent mile of the 'Windy City'. From breakfast at Chicago institution, Lou Mitchells, to the architectural beauty of the Willis Tower, Chicago is a mecca for unique travel experiences. It also marks the historical starting point of Route 66 at the corner of Michigan and Adams. The good news for those wary of maxing out your credit card is that by starting in Chicago you get the most expensive city of the trip out of your way early.
---
RELATED: Top 10 Travel Tips For Road Trips
---
Day 3 – Chicago to St Louis
Jump into life on the road along the first 330 miles (480kms) of Route 66. Showcasing pure Americana, early highlights include the green Gemini Giant and 19-foot Paul Bunyan statue. Grab a Cozy Dog corndog in Springfield, Illinois before rolling on to St Louis – home to the Gateway Arch.
Because Route 66 was officially decommissioned as an interstate highway in 1985, many of the iconic road signs were either replaced or snaffled as souvenirs. As a result, the exact route became tricky to navigate. However, tamper-proof road signs are now making a reappearance along Route 66 as the popularity of this classic American road trip grows.
Day 4 – St Louis to Springfield
Hit the road on day four to Springfield, Missouri, which happens to be the birthplace of Route 66. This 210-mile (340km) drive is also an opportunity to discover such gems as the Meramec Caverns – a collection of colourful limestone formations and former hideout for the notorious Jesse James.
Day 5 – Springfield to Tulsa to Oklahoma City
Rack up another 310 miles (520kms) to Oklahoma City. Observe the rich history of Route 66 through Oklahoma as a main thoroughfare for migrating families in the 1930s. Stop for a photo at the Blue Whale in Catoosa and Cyrus Avery Route 66 Memorial Bridge in Tulsa.
---
RELATED: East Coast vs West Coast USA: which coast is the best coast?
---
Day 6 – Oklahoma City to Amarillo
Head for Texas on a 260 mile (420km) trail through the Great Plains. Notable stops along the way include the Route 66 Museum, Shamrocks Tower Station and the leaning water tower of Groom. Once in Amarillo, the Big Texas Steak Ranch calls to hungry travellers with their famous 72 ounce steak.
Day 7 & 8 – Amarillo to Albuquerque
Before leaving Amarillo be sure to visit Cadillac Ranch – a unique homage to the Golden Age of the American auto industry. Continue on to Adrian for a slice of ugly crust pie at the Midpoint Cafe before heading to Tucumcari – home to New Mexico's Route 66 Museum and the Blue Swallow Motel. The rooms and suites of this landmark motel feature classic furnishings and restored rotary dial phones, giving guests an authentic yesteryear experience. 
Day eight is yours to discover the Spanish Colonial and Native American history of Albuquerque. Old Town and the Indian Pueblo Cultural Centre are just two of the city's highlights.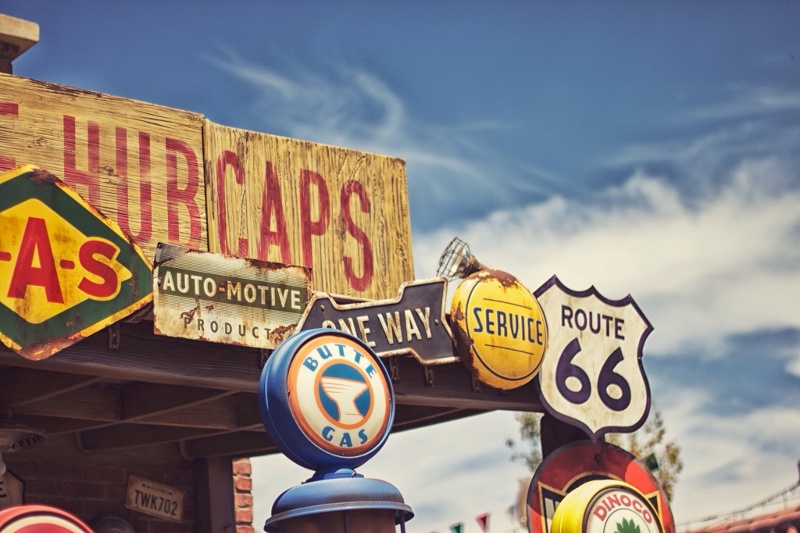 Day 9 – Side Trip to Santa Fe
Once part of historic Route 66, Sante Fe is a 116 mile (186km) side trip from Albuquerque. A detour to the oldest and most picturesque capital in the US is worth the extra cost. Art galleries, markets and museums showcase local artists, including works by famed resident Georgia O'Keeffe.
Day 10 – Albuquerque to Holbrook
This 260 mile (420km) leg takes you on a journey through the striking desert landscapes of Arizona, from the brilliant red-rock mesas to the 13,000 years of history in the Petrified Forest National Park. Cap off the drive with a stop at the iconic Wigwam Motel, welcoming guests who travel Route 66 since the 1950s.
Day 11 – Holbrook to Grand Canyon National Park to Williams
Continue on to the vintage trading post of Meteor City whose distinctive dome can be seen for miles. Pass through Flagstaff and Williams en route to the Grand Canyon National Park. This 180 mile (290km) trip culminating in scenic vistas over the Southern Rim is among the most stunning parts of the trip. Stop at one of the numerous overlooks, walk part of the Rim Trail or along historic Hermit Road. Climb to the top of the stone Watchtower for panoramic views that extend over 100 miles on a clear day.
---
RELATED: A film fan's guide to Hawaii
---
Day 12 & 13 – Grand Canyon National Park to Las Vegas
Leaving Williams and the Grand Canyon behind, you will commence 300 miles (480kms) along the longest uninterrupted stretch of Route 66. Highlights along the way include the original Route 66 Gift Shop in Seligman, the flourishing Route 66 motels of Kingman, and the spectacular Hoover Dam. Continue to Las Vegas, Nevada where a full day is yours to indulge in 'Sin City'. Walk the famous Las Vegas Strip lined with mega-resorts and flashing neon lights, place a bet at one of the many casinos, catch the latest must-see show, or simply lay by the pool. 
Day 14 & 15 – Las Vegas to Santa Monica/Los Angeles
Set out through the Mojave Desert in the final stretch of your journey. This 290 mile (470km) drive passes through Calico Ghost Town before rejoining Route 66 in Barstow. Stop off at the Route 66 Mother Road Museum before hitting the West Coast name-drops of Pasadena, West Hollywood, Beverly Hills and Santa Monica. The last few yards are done on foot as you park and walk to the End of the Trail Sign on Santa Monica's Pier.
Day 16 – Los Angeles
Spend your last morning relaxing in the California sunshine and reflecting on your journey along one of the world's most iconic roads.
---
Flight Centre acknowledges the Traditional Custodians of Country throughout Australia.