Before the Opera House, Sydney Harbour was all about 'the Coathanger'. The iconic Sydney Harbour Bridge links the north and south shores of the harbour spanning from the CBD to Milsons Point with over 200,000 vehicles crossing the 503m length daily. The world's largest steel arch bridge opened in 1932 after eight years of construction and over 1,400 workers toiled on the 134m-high bridge without the use of safety rails.
There are numerous ways to cross the Sydney Harbour Bridge and take in those million-dollar views. Commuters on the North Sydney CityRail line can spy the bridge and sparkling harbour from the train carriage, which never fails to amaze. For walkers, access to the eastern footpath, and views of Sydney Opera House, is via the Bridge Stairs on Cumberland Street in The Rocks where you can walk to the mid-point of the bridge and admire the scene. You can also access the Sydney Harbour Bridge from the north shore via the steps from Milsons Point Station.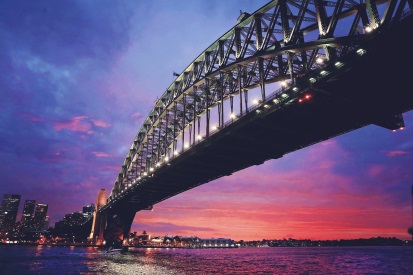 To climb the bridge there are now two options: the Pylon Lookout and BridgeClimb. The Pylon Lookout is a three-level museum located in the southeast pylon with a lookout at the top. The exhibits detail the history and construction of the bridge and the original vision of chief engineer J.J.C. Bradfield. Climb the 200 stairs to the lookout where you can view as far as the Olympic Stadium in Homebush and the Blue Mountains. 
Since 1998, visitors can also scale the summit of the Sydney Harbour Bridge with BridgeClimb. For those not afraid of heights, you get to don a spiffy grey tracksuit and climb 1,332 steps under and above the bridge and along the arch until you reach the top for an unmissable panoramic view and a group photo of your experience. The climb takes 3.5 hours. BridgeClimb is located at 3 Cumberland Street in The Rocks.