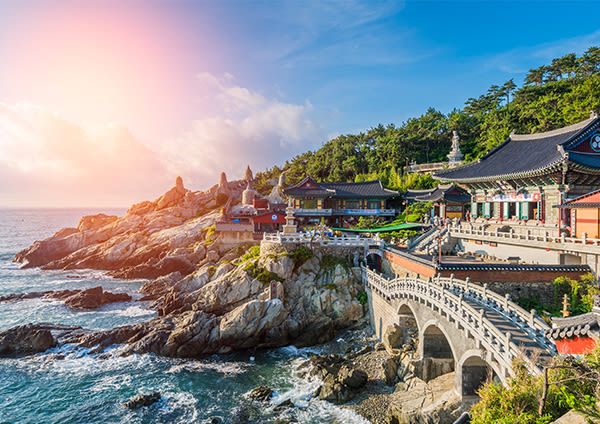 Republic
of
Korea
Holiday
Deals
If your 'Seoul' yearns for an adventure, add a South Korea holiday to your bucket list. Sure, it might be pint-sized in comparison to its neighbours, but what it lacks in size it more than makes up for in personality and cultural attractions. First stop on the agenda, Jeju Island for a spot of R&R overlooking the stunning turquoise water before devouring your body weight in local seafood, which is caught by Jeju's famous over-60 female deep-sea divers. Step up the pace a little (okay, a lot) and head into the bustling heart of Seoul to visit the iconic Gyeongbokgung Palace and Seoul Tower to gain a new perspective on the thriving metropolis. Culture seekers should make haste to Bukchon Hanok Village, one of Seoul's main attractions, before marvelling at the historical Changdeokgung Palace. Need a break from sightseeing? Head to Lotte World – aka the world's largest indoor amusement park – which attracts white-knuckle thrill-seekers and families like moths to a flame. Whether you're a history buff or just looking to have some fun in the city, South Korea is spirited, lively and full of 'Seoul'. Speak to our team about planning your ultimate South Korean adventure today!
Deals with your name on them...
Explore holidays by interest
Frequently asked questions
Which Korean city should I visit?
If culture and history spark joy, Seoul is a superb choice with countless temples, palaces, and museums. For a more laid-back beach vacation, Busan is a popular destination with beautiful beaches and hiking trails.
---
Do you need a car to get around South Korea?
If there's one thing South Korea has down to a fine art, it's public transport. The public transport system here is extensive and efficient so it's not necessary to have your own wheels. If you're planning to venture outside of the major cities, however, a car may be convenient.
---
When is the best time to visit South Korea?
The best times to visit Seoul are generally considered to be from March to May and from September to November as the weather is mild and pleasant. If, however, you dream of snow-capped mountains, aim to visit between December and February when the average daily temperatures hover around freezing and fresh powder is common. The summer months are known as the monsoon season, so perhaps rethink or pack an umbrella.
---
What is there to do in South Korea?
Eat delicious food, party, explore ancient temples, listen to quirky K-Pop, karaoke, party, take in awe-inspiring landscapes, and that's just the beginning. One thing is for certain, it's almost impossible to be bored in South Korea.
---
How to find the best holiday package to South Korea?
We've got that covered! Sign up to get the hottest deals sent straight to your phone & emails here. You can also check out our deals online, or speak to one of our Travel Experts.
---
How many days do I need to see South Korea?
You could spend weeks here and still have more to see and do. At a minimum, one week is recommended, but be prepared to leave wanting more.
---
What to take on holiday to South Korea?
First and foremost, comfortable shoes for exploring the city! It is also advisable to bring a power adapter, as South Korea uses a different electrical outlet system than some countries.
---
Where to go on holiday in South Korea?
There are so many different aspects to a South Korean holiday, it depends what kind of adventure you're in the mood for. If it's fascinating cultural experiences, Seoul is great for history and vibrant street culture. For a more relaxed vacation, the beaches and islands of Jeju offer beautiful landscapes and some seriously delicious seafood.
---
How do I go about cancelling my South Korea holiday package?
---
...loading
Popular holiday destinations
---
Flight Centre acknowledges the Traditional Custodians of Country throughout Australia.