Looking for Rio de Janeiro State Holiday Packages?
We can't find any online Rio de Janeiro State holiday deals at the moment but one of our helpful Travel Experts can help you find what you're after! Send us an online enquiry, call us on 133 133 or we can call you.
Explore more holiday deals
From the party vibe of Carnival to showboating on Copacabana beach
Easily the most recognisably of sights in Rio de Janeiro is Christ the Redeemer perched atop Mt Corcovado, a monument symbolic of Rio and the place religion holds in the heart of Brazilian people. It's best visited in the early morning to beat the crowds. An afternoon is well spent on the beaches of Ipanema, where tall and tan and young and lovely people lay claim to every inch of sand the beach has to offer.
Copacabana
Rio was, for nearly 200 years before the end of Portuguese colonialism, the capital of Brazil. As such, it's home to some of the countries most impressive museums and galleries, perfect for a rainy day. Among the best is the National Historic Museum, which hosts over 287,000 artefacts that paint a dazzling picture of the history, culture and people of Brazil and wider Latin America.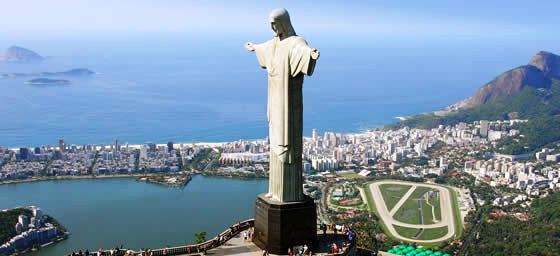 Christ the Redeemer Statue
For those who enjoy sports, no trip to Rio can be complete without watching a game at Maracanã Stadium, one of the world's largest soccer stadiums, while those who prefer a party might like to plan a trip in February to be in town when the world-famous Carnival celebrations are taking place. Wether you're a foodie or an adventure junkie, a luxury traveller or living on a budget, Rio's edgy urban hangouts, sultry samba dancing and funky bossa nova tunes are sure to keep you in town for a while.