21 Exciting Aussie Travel Experiences To Plan For In 2021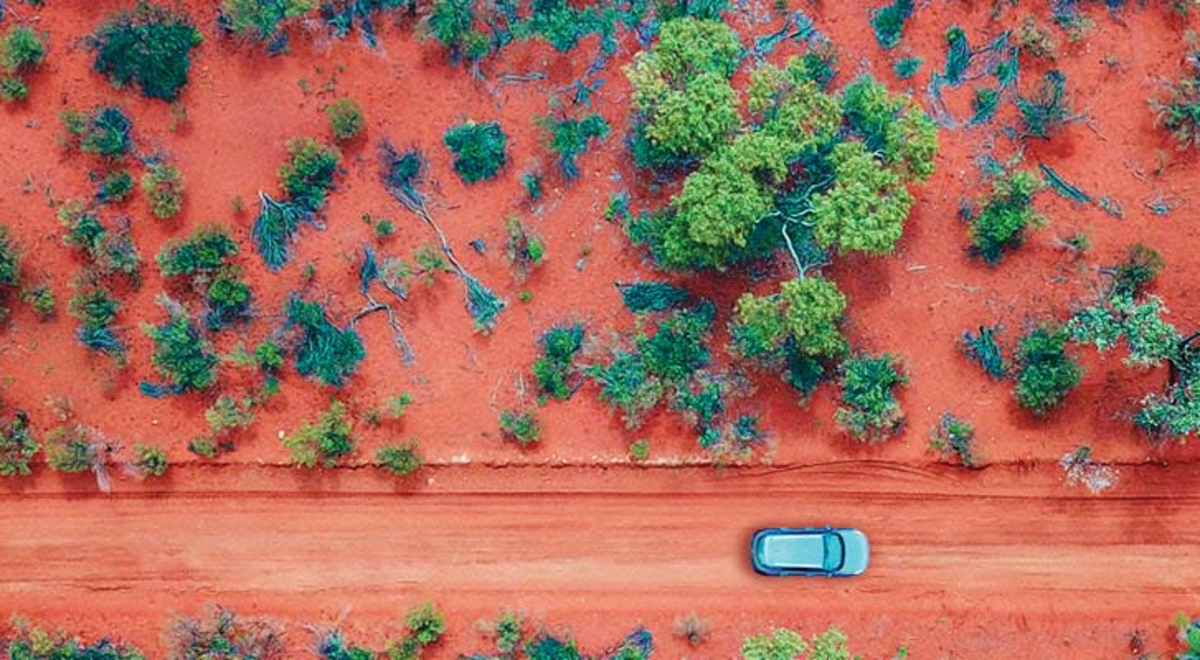 Each year we crunch the numbers, consult our industry contacts and tap into the collective know-how of our travel experts to bring you our top travel experiences for the upcoming year and beyond. With most international destinations expected to remain off limits in the first half of 2021, we've come up with a list of the 21 ripper Aussie experiences to have in our you-beaut backyard in 2021. 
Whether you're after something luxe or budget, we've included a range of holidays for each experience with something to suit just about everyone down under. If you've been waiting to see how the dust settles on domestic borders, now is the time to lock your holiday in. Flight Centre has cancellation flexibility on more holidays than ever before and rooms are booking faster than a Quokka with a selfie stick can say 'cheese'.
1. Sleep on and under the Great Barrier Reef
From a swag on a pontoon to sleeping with the fishes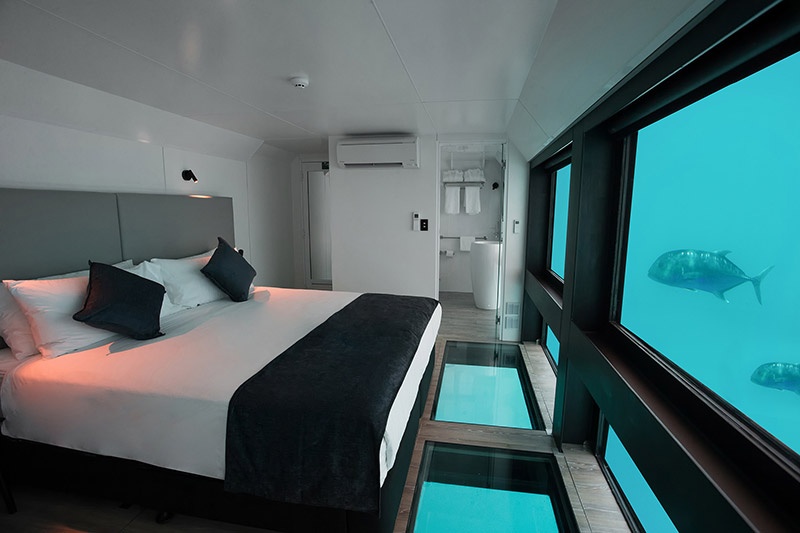 Reefworld Reefsuite
Sleeping underwater, or directly above The Great Barrier Reef is a once-in-a-lifetime experience. Take a front row seat at one of the seven new world wonders, 40 nautical miles from Airlie Beach, staying to experience it all to yourself after the day crowds are long gone. Drift off to sleep on a pontoon, and the Southern Hemisphere's stunning night sky will have you dreaming before you're even asleep! Alternatively, sleep with the fishes of the Great Barrier Reef! Reefsuite is Australia's first underwater accommodation, an intimate, all-inclusive experience you'll never forget. 
2. Hike Cradle Mountain
Short day walks to hiking the Overland Track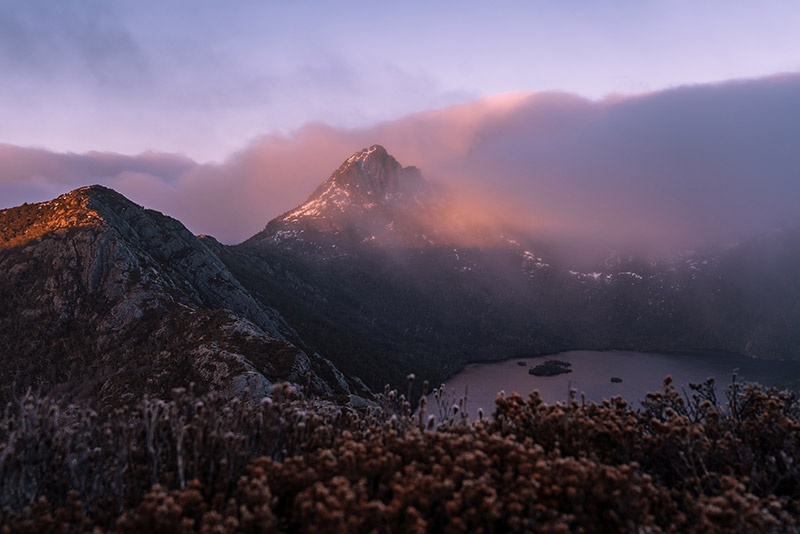 Cradle Mountain. Photo: Emilie Ristevski.
Arguably Australia's most famous mountain, Cradle Mountain is an iconic Tasmanian destination. Day trippers can embark on short rainforest walks, or view the mountain from Dove Lake, while adventure-seekers can take on the challenge of Cradle Mountain itself, or even embark on the six-day Overland Track that takes you from the highlands south toward Hobart. 
3. Visit one of Australia's lesser known tropical islands
From Lord Howe to Norfolk, Australia has a few of its own exotic islands to add to your bucket list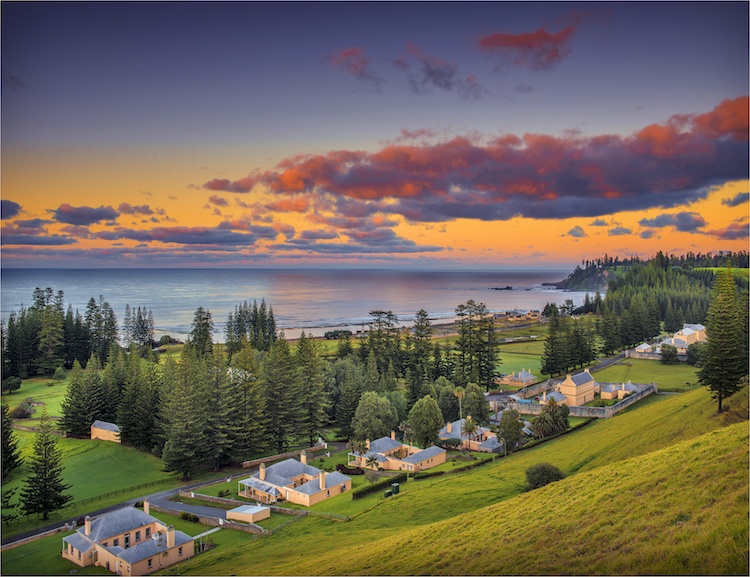 Sunset on Norfolk Island.
Characterised by pristine beaches, subtropical forests, clear waters and abundant wildlife, UNESCO World Heritage listed Lord Howe Island is as unique as it is untouched. Only 400 visitors are allowed to experience the island at any one time, to admire seabird colonies on nature walks, bask on the sandy beaches, or dive the nearby Admiralty Islands. With more than 60 dive sites, the surrounding waters are perfect for seeing over 450 fish and 90 coral species.
Located just a little further east from Lord Howe and roughly halfway between Australia and New Zealand is one of Australia's most fascinating destinations, Norfolk Island. On this friendly island with an interesting history waving to visitors is customary and the abundant cows naturally always have right of way. Here you can see one of the best preserved convict settlements in the Southern Hemisphere, hike through the national park and Botanical Gardens and swim and snorkel in the stunning Emily Bay.
4. Roadtrip WA's Coral Coast & Exmouth
Beach hop the world's best coastline & swim with whale sharks on Ningaloo Reef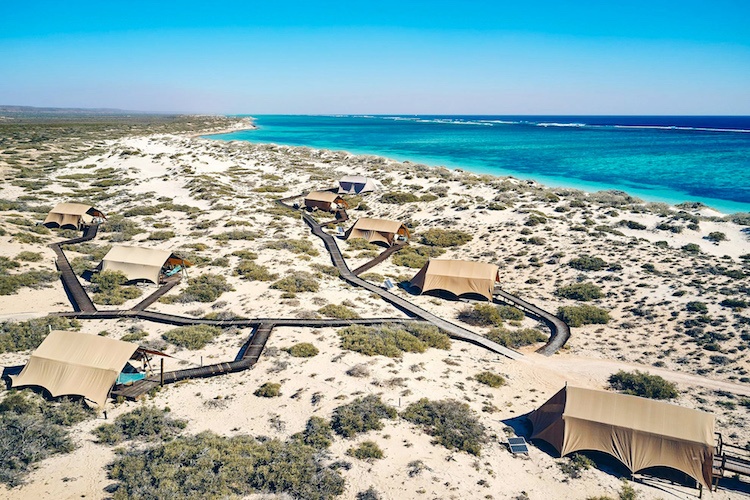 Aerial shot of the Sal Salis luxury beach campsite by ©Aquabumps
A holiday along WA's Coral Coast can unlock some of the state's most notable experiences; setting your sights on the world's largest winter wildflower collection, or the chance to swim with majestic whale sharks from March to August. If you're travelling between June and August, you'll be able to admire some incredible wildflowers, species that don't grow anywhere else in the world. These beauties are particularly in bloom around the Geraldton region. Or head further north to Exmouth and World Heritage listed Ningaloo Reef. This underwater paradise is a popular spot for humpback whales (between June to October), dolphins, turtles and of course the majestic whale sharks, the largest fish in the ocean. To get the full experience, you really need to head underwater and explore this marine playground but get in quick especially during the whale shark season as hotel and glamping accomodation will book out during these popular months. 
5. Visit the World Heritage-listed Kakadu National Park
An ancient landscape the size of Switzerland, Kakadu has incredibly diverse landscapes right in our backyard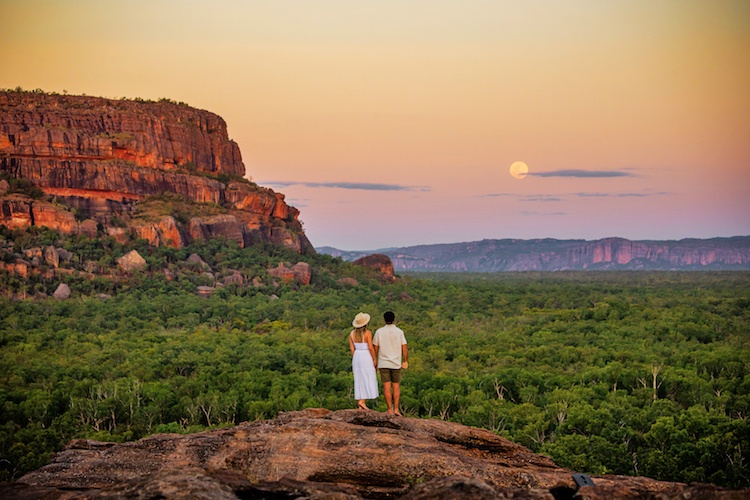 Kakadu National Park. Supplied by ©Tourism NT. Photo by Kyle Hunter & Hayley Anderson.
Witness the magic of Kakadu National Park by taking a Top End road trip and cruising the wetlands full of wildlife. Learn the ancient stories and traditions of Australia's oldest living culture and get up close and (not too) personal with the largest reptile on the planet, the crocodile. With so many waterfalls and crystal clear plunge pools to choose from you could find a new one each day to explore. Climb to great heights for incredible views of the Park's floodplains, escarpment country and those famous sunsets. 
6. Island hop the Whitsundays 
From Whitehaven Beach to Heart Reef - tick these icons off your bucket list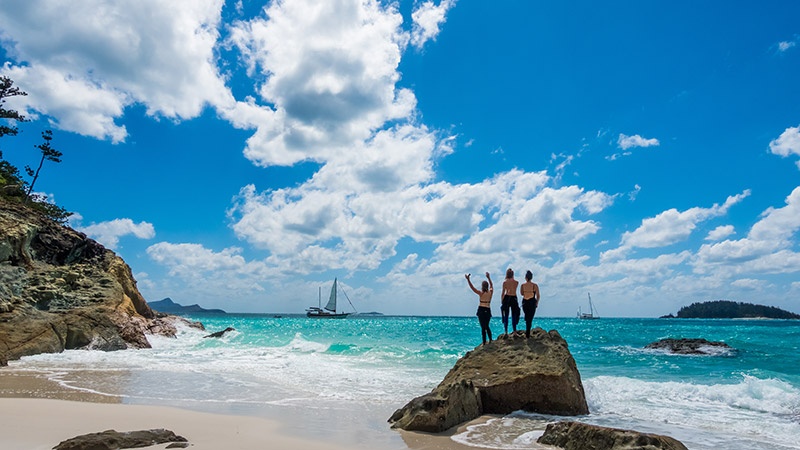 Above or below the water - the Whitsundays look good from all angles.
Sail around a World Heritage Listed region, through the sparkling Whitsundays' waters; stopping in for a splash on a pristine beach, or lunch on a lush tropical island. Sound like something you could get around? Or why not discover the spectacular beauty of the Whitsundays from both above and below the water, with a helicopter and snorkelling adventure?
7. Road trip through the Flinders Ranges
Ever slept in an underground hotel room?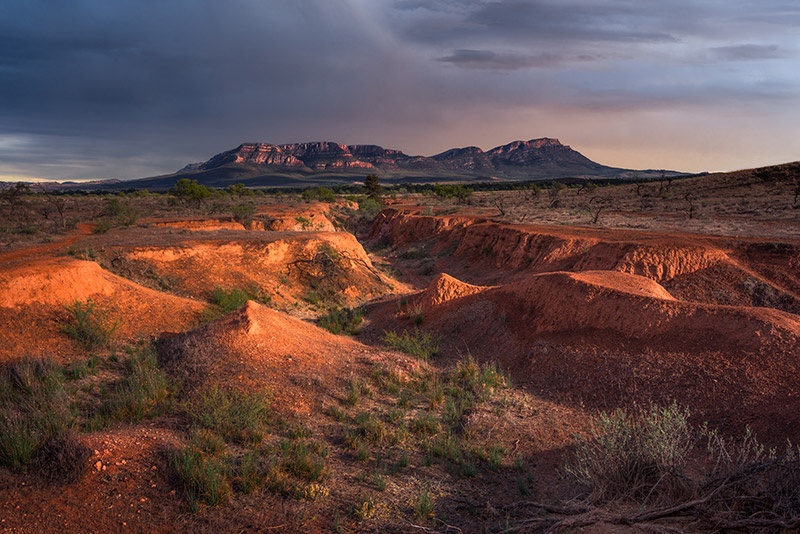 The Flinders Ranges is South Australia's largest mountain range. Its iconic natural amphitheatre, Ikara (Wilpena Pound) [pictured] stands out in the vast landscape as the centre piece to the National Park.
South Australia's outback is home to the red mountains and ancient gorges of the Flinders Ranges, the expansive Lake Eyre with its prehistoric water systems, and the small underground opal mining town of Coober Pedy. Each experience is unique and alluring in its own way and makes the Flinders Ranges a fantastic bush road trip. Visiting this rugged region will bring you up close and personal with incredible natural formations, indigenous history, native wildlife, and beautiful night sky. The ranges need to be seen by foot, and Coober Pedy - you'll have to head underground for that one! 
8. Hike and cruise Tasmania
Wilderness cruises and legendary walking tracks await
The Three Capes Lodge walk.
Imbued with a heady sense of escapism, glorious wilderness and rustic rural scenes, Bruny Island is best savoured by cruise or an overnight stay. To get a sense of glorious solitude, visit Cape Bruny lighthouse and walk to nearby isolated beaches. At dusk, watch penguins making their way home at The Neck. To really stretch your legs and be at one with the Tasmanian nature, embark on the Three Capes Lodge Walk on the Tasman Peninsula east of Hobart
9. Drive the Great Ocean Road & See the 12 Apostles
A classic Aussie coastal road trip
There's no better way to hit the great frog & toad than with a drive along Victoria's Great Ocean Road. From Torquay to Port Fairy, Lorne to the Grampians, there are Instagram-worthy shots around every bend. This stunning region boasts national parks, coastal bluffs, surf breaks and quaint towns bursting with art and culture. Not to mention the magical Apostles, there's so much here, you'll wish you'd done it sooner.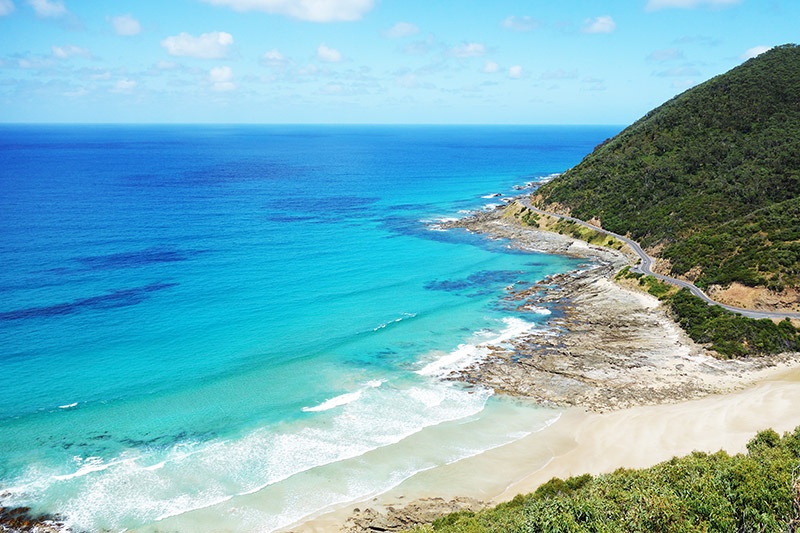 The view while driving along the Great Ocean Road.
10. Taste some of Australia's best drops in the Margaret River wine region
The country's best vines alongside pristine white beaches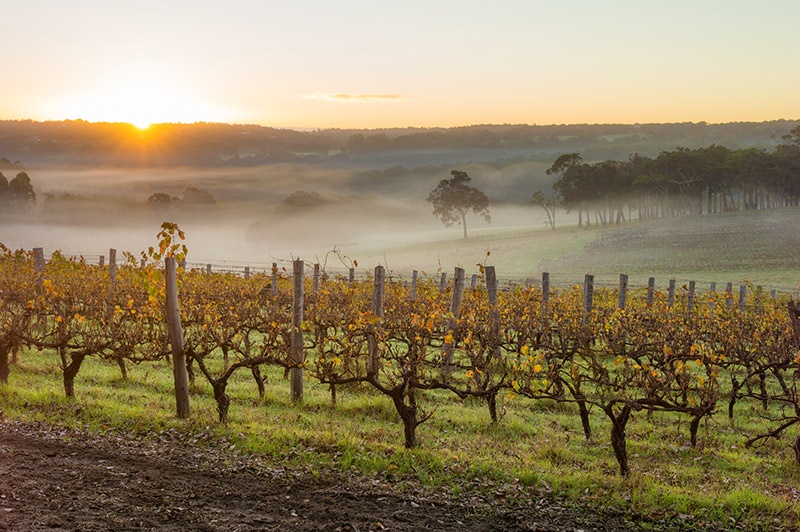 Margaret River vines.
There's a reason that WA's Gourmet Escape Festival focuses so heavily on the Margaret River region... Fresh seafood, surrounding farmland and those sweet berry vines; it's paddock to plate at its finest. Just a two hour drive south of Perth will take you deep into this gastronomic region where you can sip, swirl and sniff wine, make your way around craft breweries and distilleries, and sink your teeth into a myriad of tasty morsels. 
11. Explore Tropical North Queensland & stay in a rainforest cabin
Walk through the world's oldest living rainforest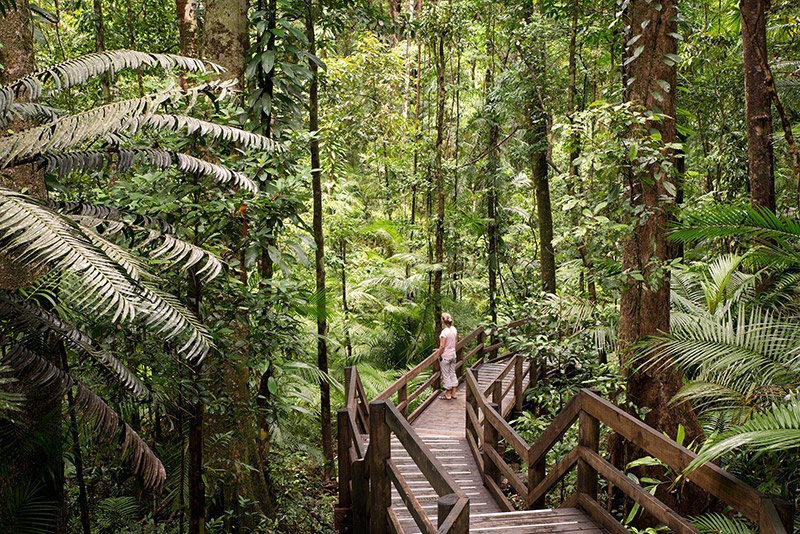 Stay in a rainforest cabin and wake up each day to a little slice of heaven.
When Sir David Attenborough calls something 'the most extraordinary place on earth', you know it's special. At 180 million years old (10 million years older than the Amazon!), the Daintree is home to an incredible diversity of plants and animals. In fact 80% of the world's fern species and 12,000 different insect species can be found here, along with crocodiles, the endemic Southern Cassowary and the beautiful Ulysses Butterfly.
12. Experience Australia by rail
Hark back to the golden age of travel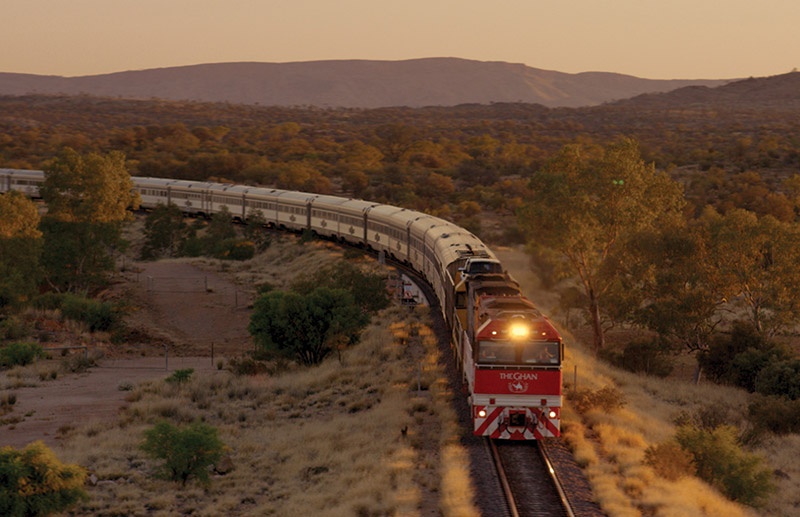 Hark back to the golden age of travel on The Ghan.
Departing from Adelaide, travel coast to coast through the red centre, experiencing Australia at its dramatic best aboard legendary train, The Ghan. The all-inclusive journey takes 3 days and 2 nights featuring a regionally-inspired menu paired with a selection of local wines and beverages. The immersive off train experiences feature stops in Marla, Alice Springs, and Katherine. The latter is where you can cruise Nitmiluk Gorge, learn more about Katherine's ancient Indigenous rock paintings, or discover authentic outback life on a cattle station.
13. Explore the World Heritage Listed Blue Mountains
Get outdoors or settle in for pampering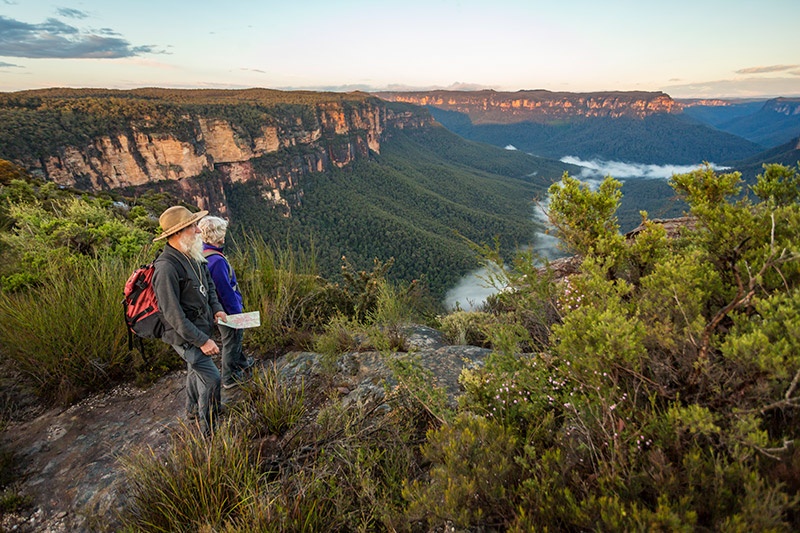 See yourself here on your next walking holiday?
Spread over a million hectares of forested valleys, sandstone canyons, and towering waterfalls, the Blue Mountains are worlds away from the city. Bush walks and lookouts bring views of iconic landmarks like the Three Sisters. The charming local towns hold boutiques, antiques stores, cafes and award-winning restaurants serving up some of the region's best flavours. Plus, if it's fruit picking season, you can fill a bucket at a local orchard to take home your own apples or berries! Spend a couple of days exploring the richness of this region or simply book in at a luxe retreat and relax.
14. Explore the ancient landscapes of the Kimberley by 4WD 
Go further than the crowds with an expert guided exploration
The Kimberley's Bungle Bungles.
Experience the natural wonders Australia has to offer, like the ancient landscapes, red mountain ranges and sparkling water holes of the Kimberly region. Considered the last of Australia's truly wild frontieres, this trip is best explored with a guide. Taking a four wheel drive or cruise tour will take you to some of the most incredible nooks and crannies, hidden gems and prehistoric parts of this majestic region that really is unlike any other.  
15. See the sea lions sunbake on Kangaroo Island
Get off the mainland and surround yourself with the serenity of Kangaroo Island.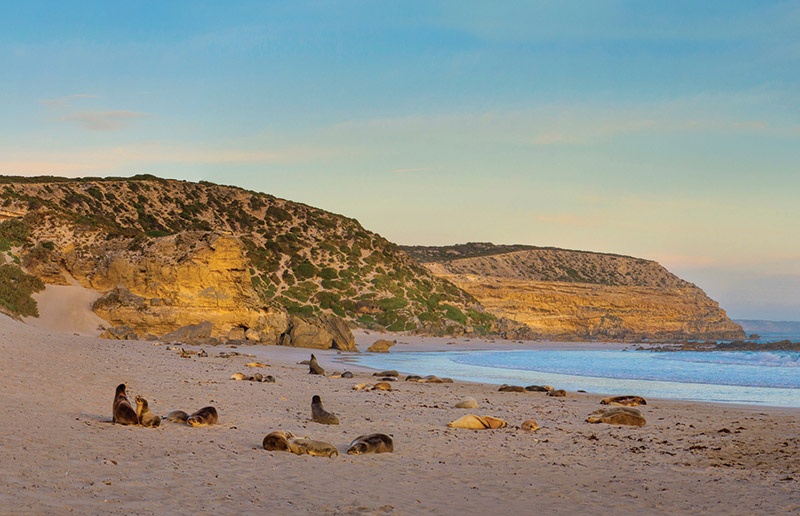 The locals of Kangaroo Island.
One third of this rugged island is made up of protected nature reserves, so you'll be rubbing shoulders (from a socially acceptable distance!) with native wildlife like koalas, sea lions, birds and depending on the season, maybe even penguins. Spend the daylight hours getting in touch with nature and then by night devour the island's gourmet food and wine offering.
16. See Humpback whales in the sheltered waters of Fraser Coast
Come for the whales and stay for the golden sands of Fraser Island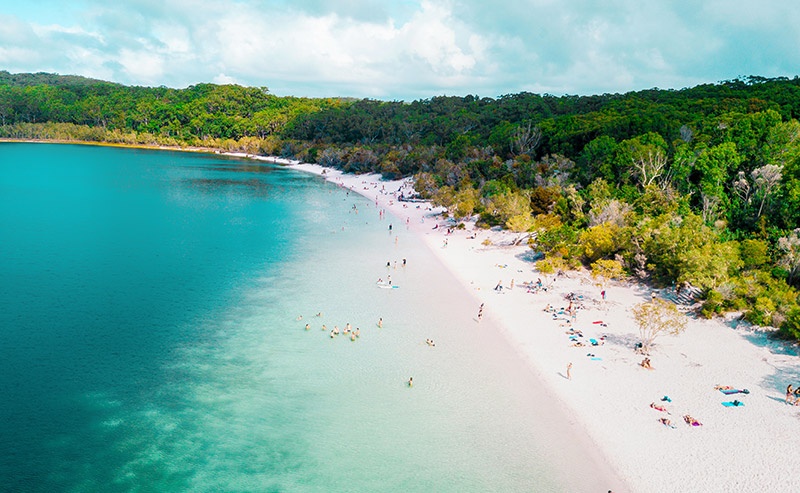 The freshwater Lake McKenzie on Fraser Island.
Hit the famous Fraser Coast, where you can stay and play on the world's largest sand island, also an official Whale Heritage Site. Kingfisher Island Resort has been voted one of the top 10 family resorts in Australia! From canoeing to hiking, ranger-guided activities to the indulgent Island Day Spa, this hidden paradise seamlessly blends immersive activities with relaxation in luscious native surroundings. Annually between August and October, Hervey Bay is home to thousands of whales who use these calm waters to rest and help their calves learn and grow during their lengthy migration between North Queensland and Antarctica.
17. Head up to Wineglass Bay lookout for the postcard perfect view across the bay
Detached from the mainland, feel worlds away in Wineglass Bay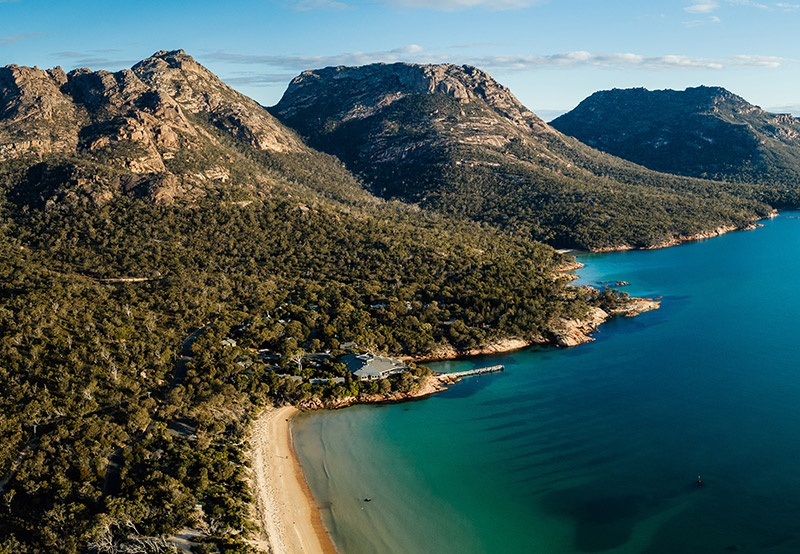 Freycinet Lodge in Wineglass Bay.
The iconic mountain peaks, white sand and soft blue water of Wineglass Bay are Tasmania's most photographed view, and once you arrive it's not hard to see why. Today the pristine landscape is a part of Freycinet National Park, surrounded by oyster farms and untouched bushland. The region feels worlds away from the bay's dark past as a whaling location in the 1800s. Today you can enjoy its protected pristine water and surrounding nature's abundant activities. 
18. Have an Aussie snow holiday 
Make this year your first Aussie snow holiday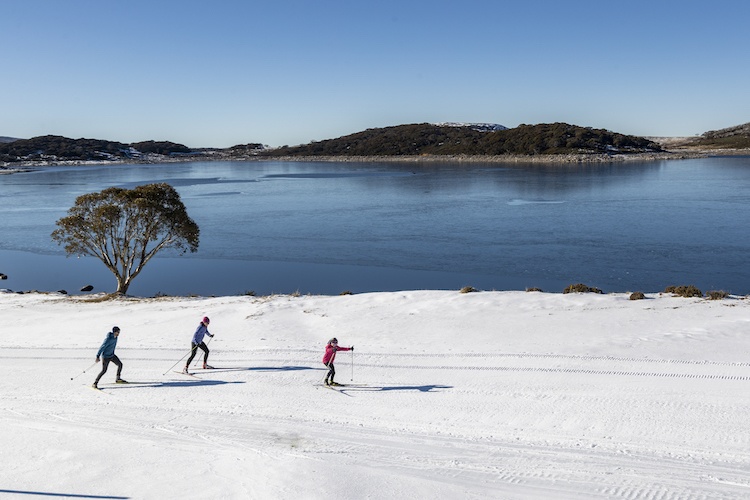 The home of cross country skiing - Falls Creek.
Head to Australia's prettiest ski field at Falls Creek, with its ski village and ski-in/out accommodation. Falls Creek is Victoria's largest alpine resort and an absolute treasure trove for thrill seekers. The field boasts 65 kilometres of free cross-country trails, downhill skiing, snowboarding, tobogganing, and terrain parks with some of the best rails and jumps around.  The onsite ski school is also perfect for first time ski families or for getting the kids up and shredding in no time.
19. See the sunset at Uluru and dine under the stars
Uncover a rich tapestry of Aboriginal culture while dining in the outback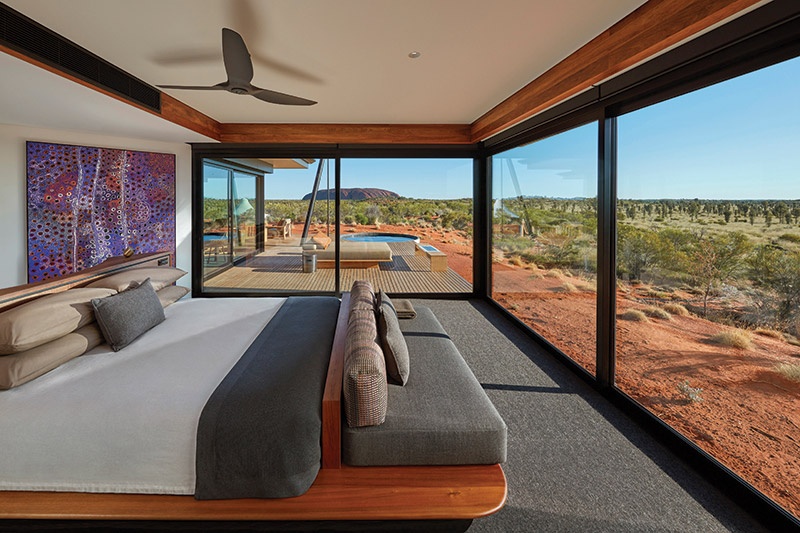 The Dune Pavilion Bedroom at Longitude 131 - not a terrible view hey?
The Red Centre needs no introduction, but a spot on your bucket list is a must. Imagine sitting down to dinner beneath the brightest blanket of stars you've ever seen, listening to stories of this ancient landscape and the culture that's inhabited it for millions of years. The Sounds of Silence dinner is a magical evening that encompasses the best the outback has to offer. It's so good in fact, that it's been entered into the Australian Tourism Hall of Fame.
Then when it comes to relaxation, there is no place quite like Longitude 131, an all inclusive luxury tented resort. Nestled among rich red dunes, overlooking Uluru, it's the perfect place to experience the magic of the Aussie outback. Floor to ceiling windows and a high canopied roof offer the ultimate retreat; it doesn't get much more luxuriously isolated than this.
20. Take a wine or cooking master class in the Barossa Valley
Enrich your mind and belly during the day and stay in a luxury lodge or glamp in a holiday park by night.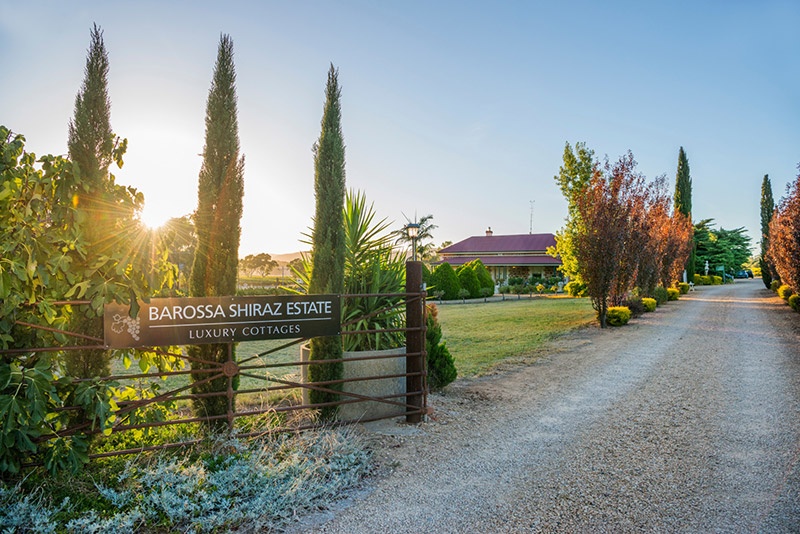 The entrance to Barossa Shiraz Estate, South Australia.
When it comes to food related holidays, Southern Australia's Barossa Valley stands head and shoulders above the rest. Thanks to fertile lands and a patchwork of farms scattered across verdant hills, this region yields some of the country's best produce. While it's possible to keep your focus firmly on the food in the Barossa, it's worth delving a little deeper to unveil her heritage and history. Music, galleries and festivals can cater to your cultural side, while cycling tours, balloon flights and private driving tours tap into any sense of adventure.  
21. Surf, hike and skydive in Byron Bay
Feed your sense of adventure in Australia's favourite beach town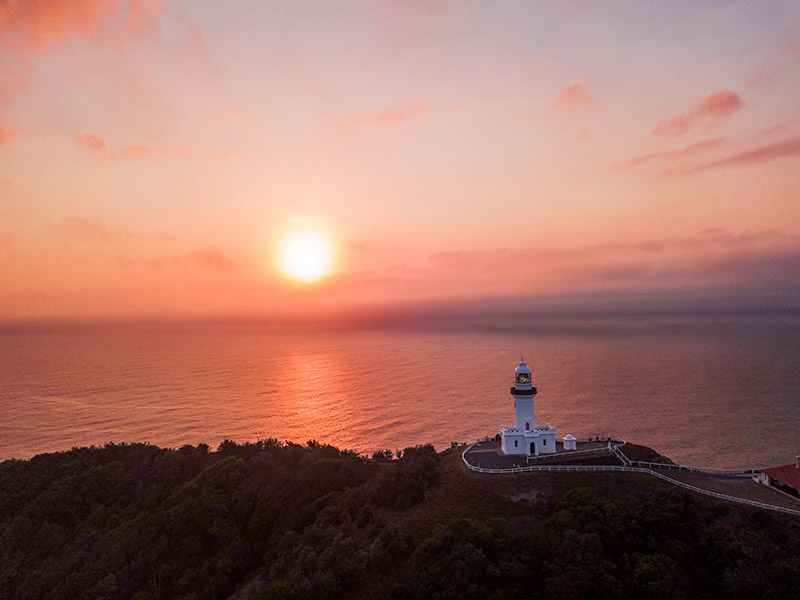 Byron Bay Lighthouse.
If you've got a soft spot for craft beers, beach walks, artisan coffee and a bit of avocado on toast then this is the place for you. Bordered by lush green hinterland and Northern NSW's pristine beaches, Byron Bay is the ideal base for your next wholesome escape. Learn to surf, build sandcastles with the kids, or skydive if you're game. Please note: shoes optional. 
---
Flight Centre acknowledges the Traditional Custodians of Country throughout Australia.