Tropical North Queensland
Lizard Island
A place reserved for the fortunate few, Lizard island has 24 sandy beaches and a lagoon. The luxe reef resort is accessible only by private charter from Cairns Airport – meaning picnics on secluded sandbars, sunset beach degustation menus, 5-star cuisine, personal butlers and indulgent spa treatments. The island, 92 kilometres off the coast of Cooktown, was declared a national park in 1937, and the wildlife is phenomenal – think green sea turtles feeding along the beaches at low tide, humpback and minke whales passing by, spinner dolphins, giant black marlin and manta rays, green tree frogs and goannas, abundant birdlife, flying foxes and swallowtail butterflies. And the renowned Cod Hole diving site is but a short boat ride away. Australia's northernmost island hideaway, Lizard Island has won praise from the likes of Prince Charles, Madonna and Kate Hudson.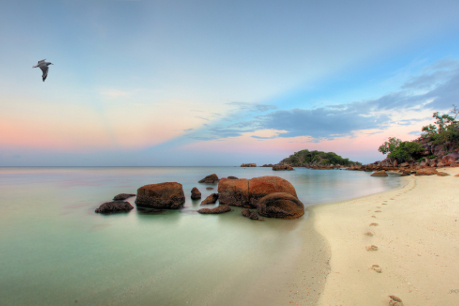 Picture: Getty Images
Green Island
A pristine location in the Great Barrier Reef Marine Park, this lovely coral cay boasts colourful coral and abundant sea life a short boat ride from Cairns. Go snorkelling in the warm water of the Coral Sea, take a sunset dinner cruise, or opt for a scenic flight to spot sharks, turtles, rays and whales from the air. Protected in the Green Island National Park, it's the only coral cay on the reef with a rainforest growing on it, and at only 15 hectares, the island can be walked around in 20 minutes. Most visitors come for a day but the island does host the luxury Green Island Resort, where you can enjoy sunset drinks and a private seafood dinner on the beach.
Fitzroy Island
Be prepared for jaw-dropping sunset views from the beach. A mere 45-minute ferry ride from Cairns lies a paradise worthy of romantic escapes and family getaways alike. Learn to dive or take a glass-bottomed boat tour, as well as trying your hand at kayaking and snorkelling. Or trek through the rainforest and emerge at the stunning Nudey Beach (not what you think!). Fitzroy Island has its own campus of the Cairns Turtle Rehabilitation Centre, where you can see sick or injured turtles on their journey to recovery. Only four square kilometres in size, this relaxed, barefoot destination welcomes divers, day-trippers and campers, as well as having a 4-star resort.
Townsville North Queensland
Orpheus Island
Fly by helicopter to a secluded island of understated luxury in the Palm Island group off the eastern coast of Queensland. Orpheus is only 11 kilometres long and can get as narrow as one kilometre wide, and encompasses about 1,300 hectares of national park. Spend the day exploring on foot or dive into the protected waters of the Great Barrier Reef Marine Park. There are at least 1,100 species of fish, and more than 340 species of reef coral, along with giant clams, turtles, rays, reef sharks, and dugongs that feed in the seagrass beds. Look for large coral bommies in Little Pioneer Bay, Cattle Bay and around Yank's Jetty. A marine biology research station shares the island with the luxury Orpheus Island Resort, where you can enjoy Dinner With The Tides, a romantic starlit dinner for two by the sea. The island is accessible by helicopter from Townsville and Cairns or by launch from Lucinda in the Hinchinbrook Shire.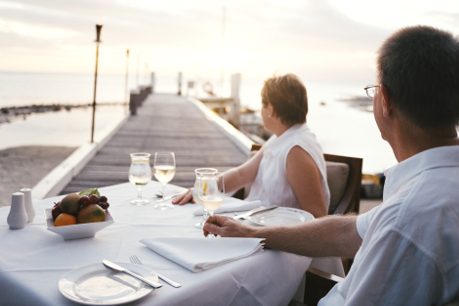 Picture: Getty Images
Magnetic Island
You'll be on a first-name basis right from the start with 'Maggie', as the locals call Magnetic Island. The laidback spot is just a 25-minute ferry ride from Townsville, and is blessed with unspoilt nature, 23 secluded beaches and bays, lots of wildlife and easy access to the Great Barrier Reef. Follow the snorkel trails in Nelly and Geoffrey bays to see giant clams, or dive the wreck of German barque The Moltke. Take the Forts Walk in Magnetic Island National Park for a dose of World War II military history, where you can also see koalas and microbats. Be bewildered by myriad blue tiger butterflies at the Butterfly Forest in Horseshoe Bay, or be frightened out of your wits by the evening call of the bush-stone curlew. Maggie makes room for backpackers, B&Bs, resorts and private rentals in a thriving community that knows how to make its own fun.
Whitsundays
Hamilton Island
It may be a cliche, but the waters really are turquoise in the Whitsundays and the sands really are white. And yes, Hamilton Island also has palm trees and coral reefs – the Great Barrier Reef, to be exact. But even if you get tired of hearing it, you'll never tire of seeing it when you touch down at the airport. Travel about in an electric buggy for stunning views at every turn. Squeak through the sands of Catseye Beach for incredible sunrises and tidal pools, or venture to Whitehaven Beach on nearby Whitsunday Island. Snorkel with turtles, watch the sunset over a drink at the Yacht Club, tee off at Hamilton Island Golf Club on nearby Dent Island, or try an array of water sports. Oh, and there's hiking, koala encounters and art classes to boot. Perfect for luxury lovers and families alike.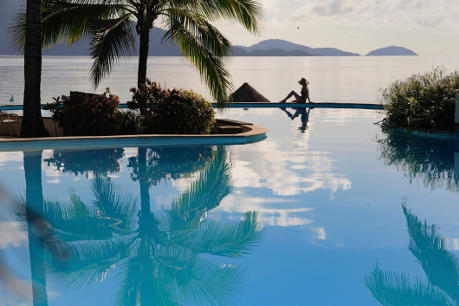 Picture: Getty Images
Daydream Island
This tiny speck in the Whitsundays is what dreams are made of, especially for sailing enthusiasts, snorkellers, scuba divers and beachgoers. It is home to the upscale Daydream Island Resort and Spa, which has a mini-golf course and open-air cinema, and it's a stone's throw from Shute Harbour on the mainland. Professional childcare is available at the Skipper's Club and the whole family can have fun at Living Reef – one of the world's largest outdoor aquariums – feeding fish, stingrays and even sharks. There are also night tours, snorkelling around the fringing coral reef, glass-bottom boat tours, and you can be a marine biologist for a day. For couples, take a twilight kayak tour to Lovers Cove for a glass of sparkling wine and cheese platter as the sun goes down.
Hayman Island
A secluded haven popular with honeymooners for years, with a new botanical garden designed by Jamie Durie, Hayman Island is accessed by helicopter, seaplane or luxury yacht transfer from Hamilton Island. One&Only Hayman Island is the only accommodation on Hayman Island, which is the nearest Whitsunday island to the Outer Reef and the world-famous heart reef. Take a seaplane excursion to witness the majesty of the Whitsundays from the air. Meanwhile, diving adventures and fishing for yellowfin tuna and black marlin await. On land, keep your eyes peeled for the rare Proserpine Rock Wallaby. Also visit Whitsunday Lookout and Dolphin Point at sunrise for incredible views, and head to Blue Pearl Bay for equally amazing sunsets. Families are welcome, and a KidsOnly program (ages four-11) is on offer all year.  
Southern Great Barrier Reef
Lady Elliot Island
This tiny coral cay between Fraser and Lady Musgrave islands lies about 80 kilometres northeast of Bundaberg. It's the closest bit of reef to Brisbane and provides a sanctuary for 1,200 species of marine life. Turtles nest on the island, there is a sizeable noddy bird rookery, migrating whales pass by and it's known as Home of the Manta Ray – oh, and there are no stingers! Being so far from shore, the waters are crystal clear, with a visibility of 20+ metres, so snorkel right off the beach or dive at one of 20 superb sites around the island. You can even do a reef walk at low tide – but bring your closed-toe reef-walking shoes. Accommodation at the eco-resort is low-key and there are no phones, TVs or radios – the perfect place to unplug. Access is by scenic flight from Bundaberg, Hervey Bay, Redcliffe and the Gold Coast.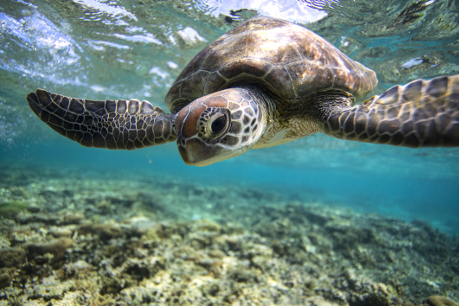 Picture: Getty Images
Heron Island
Bird-lovers – and divers – will be in seventh heaven on a visit to this evergreen coral cay surrounded by 24 hectares of Great Barrier Reef. At certain times of the year, up to 100,000 birds flock to this breeding and nesting sanctuary, including herons, mutton birds, noddies, terns and shearwaters. And they're not the only creatures to visit – it is also a breeding home for green and loggerhead turtles. With dense pisonia forests, sugar-white sands, and more than 20 spectacular dive sites – including the famous Heron bommie, Heron Island is paradise for animals and humans alike. A photo of it was even sent into space in 1977, on the Voyager Golden Record, as an example of the diversity of life on Earth. Alien visitors welcome.
Lady Musgrave
Take a day cruise from Seventeen Seventy to one of the Great Barrier Reef's biggest swimming pools at Lady Musgrave Island, yet another coral cay. Strap on the snorkel, or step into a glass-bottomed boat, to see turtles, manta rays, kaleidoscopic fish and more in this mesmerising aquarium. If you want to stay on this uninhabited island, be aware that a maximum of 40 people are allowed to camp. Or you could drop anchor in a luxury vessel to see nature's finest in finery.
Southern Queensland
Fraser Island
Beach, coloured sands, rainforest, lakes – it's no wonder Fraser Island has made the World Heritage list. Not only is it the largest sand island in the world, its more than 100 freshwater lakes are some of the cleanest in the world. Lake McKenzie perches 100 metres above sea level on nearly pure silicia sand. If you like sand (and fishing), you'll love 75-Mile Beach – all 75 miles (that's 120 kilometres) of it. Try four-wheel-driving on the beach highway, stopping to admire the Maheno shipwreck and cliffs of coloured sand. Keep an eye out for the resident dingos and stare out to sea for a whale of a spectacle.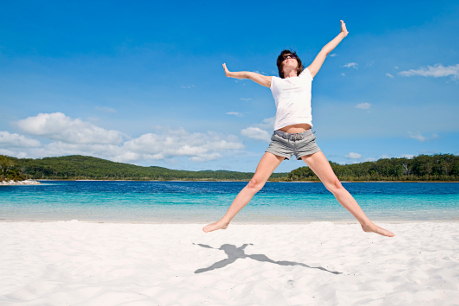 Picture: Getty Images
Moreton Island
Just a hop, skip and a jump from Brisbane, Moreton Island offers history, family fun, adventure, wildlife and lazing on its blinding white sands. In fact, it is the third-largest sand island in the world and its dunes make for hours of fun tobogganing or trekking – the view from Mount Tempest, a 285-metre dune, is sensational. In the past, the island has hosted whalers, sand miners and World War II troops; now it hosts campers, cruise ship passengers and visitors to the Tangalooma Island Resort. And it is in a protected marine reserve – you can feed dolphins in the company of eco-rangers or spot dugongs, sea turtles and stingrays on a discovery cruise. Why not snorkel or kayak around the wrecks; or take a scenic helicopter flight? And it's all just a 75-minute ferry trip from the city.
North Stradbroke Island
Colloquially known as Straddie, North Stradbroke Island lets you live the island life like a local. Camp on the beach, or hire a beach shack for a spot of whale spotting; eat the freshest seafood in unpretentious cafes; have a beer in the 'Straddie Pub'; or hit the surf at Cylinder Beach. Explore the fishing village of Amity and the rich Indigenous history and art galleries of Dunwich. Or take a walk around the headland at Point Lookout. It's a microcosm of Aussie icons, including kangaroos, echidnas, wallabies, koalas and bandicoots, and the sea is bristling with whales, dolphins, dugongs and the odd shark.