Naples Holidays
You will rewarded and surprised if you ignore the fact that Naples has lived for too long in the shadow of cities on top of the Italy must-see list: Rome, Venice, Florence, even Milan.
Naples, and the region around it, is on the World Heritage list for a reason: it is a showcase of the historic, artistic and scenic, so much so that the phrase "see Naples and die" was coined – simply meaning that when you have seen the beauty of Naples the world can offer nothing more.
An exaggeration, yes, but you will be charmed by its cultural heart and could fall under the spell of a slice of sometimes gritty southern Italian life. Speaking of slice, don't forget the superb (and genuine) pizza: this is the city in which it was born.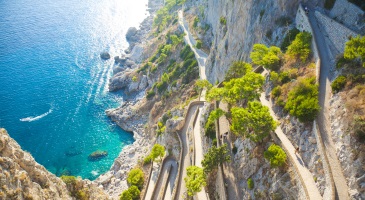 Top Attractions
View Naples not only as a city with a rich heritage on display in churches, monuments and museums, but also as a hub for some of the world's greatest travel experiences: towering Vesuvius, the ruins of Pompeii, the Amalfi coast and the Isle of Capri.
In Naples, don't miss the 13th-century Castel Nuovo which has played such a central role in the life of the city, the Royal Palace, once home to the Bourbon kings, and Museo Cappella Sansevero which houses the extraordinary sculpture The Veiled Christ.
For greater insight into the region's Roman treasures, visit the National Archaeological Museum, and for something completely different, go underground with a tour of the historic Bourbon Tunnel. 
Eat and Drink
Pizza Margherita, a thin crust topped with tomato, fresh basil and mozzarella, is the genuine original and many would say the only pizza worth eating. Look for pizzerias making the real thing under the auspices of the True Neapolitan Pizza Association, among them Pizzeria Brandi, Da Michele and Di Matteo. Expect to queue, but the service is fast.
Other than that, seafood stars on many of the menus around Naples with a cuisine that focuses on the freshest fish and shellfish, pasta, local tomatoes and vegetables, olive oil, garlic, red wine and peppers. For sweet treats look out for sfogliatelle, flaky pastries with a ricotta filling. If bars are your thing, a good start is Piazza Bellini in the historic centre.  
Where to Stay
Many of the most remarkable buildings and historic attractions in Naples are in or close to the appropriately named Centro Storico, so staying close would be an advantage if ease of access or a short timeline are key considerations. For designer and other upmarket shopping, rooms close to Via Chiaia or Via Toledo could be useful, though all that said Naples is easily navigable on foot.
There is a wide range of accommodation options from budget to opulent, including hotels, guest houses, bed and breakfast and apartments. Generally rates are more reasonable than in the northern Italian cities. 
Shopping
Shoppers can indulge their need for luxury goods as well as bargains, gifts and souvenirs. For clothes, shoes, jewellery and other fashionable retail, including art and antiques, the key shopping streets are the exclusive Via dei Mille, Via Chiaia and Via Toledo, which also boasts department stores and international high-street brands.
Just off Via Toledo is the visually impressive Galleria Umberto I which takes its 19th-century glass-domed inspiration from Galleria Vittorio Emanuele II in Milan. Antiques and craft work, including the famous nativity figurines, are a feature of the alleyways of Centro Storico.
Naples Like a Local
Markets, markets and more markets … there are dozens of permanent markets in and around Naples selling everything from antiques and art to fresh vegetables and fish. For great deals on shoes, boots, handbags and more, the largest open-air market is Mercato Caramanico in the Poggioreale district. If you want to see where the locals shop for the seafood so important to their cuisine, the Porta Nolana market is a treat for the senses.