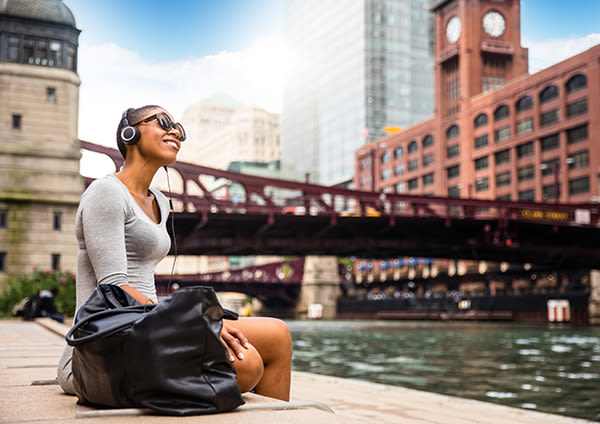 As a general rule, any city that's famous for its deep-dish pizza is speaking our love language and Chicago – also known as the Windy City – does not disappoint. Everything you need for an unforgettable adventure is at your fingertips, from its stunning location on Lake Michigan to cruising route 66, strolling along the Magnificent Mile enjoying some of the best shopping in the Midwest and meandering along the bustling Navy Pier. If you're keen to see Chicago from a new perspective, paddle your way down the Chicago River in a kayak or head sky-high to the iconic Willis Tower and step out onto the Skydeck for incredible views of the city. If you're up for a hair-raising experience, ride the TILT – one of the highest thrill rides on the planet – at 360 CHICAGO Observation Deck (the former John Hancock observatory). Chicago isn't all towering skyscrapers and excellent shopping, the River North and Theatre District neighbourhoods are packed with world-class restaurants, bars, theatres and entertainment, promising endless hours of merriment. Of course, no visit to Chicago would be complete without trying some of the city's famous deep-dish pizza. Grab a slice at one of the many pizza joints around town and see for yourself why it's a Windy City staple. Whether you're here for a day at the beach, a night on the town, some good old-fashioned Midwest charm, or all of the above, Chicago has it all. Talk to our team of travel experts about our Chicago holiday packages to see for yourself why it's one of the most vibrant and exciting cities in the world.
Deals with your name on them...
Explore holidays by interest
Frequently asked questions
Is Chicago a good place for a family vacation?
Absolutely! As the largest city in the Midwest, Chicago is jam-packed with fun things to keep the little ones amused. From museums to parks, zoos and even a beach. Lake Michigan is a beautiful backdrop for water-related activities.
---
What to take on holiday to Chicago?
Chicago is also known as the Windy City, so a light windbreaker jacket will serve you well alongside comfortable walking shoes. The rest of your packing list will depend largely on what time of year you plan to travel – there's no point in packing hand warmers if you're planning a summer vacation, right?
---
Where to go on holiday in Chicago?
This is the fun part, deciding where to go and what to do! Chicago has all of the attractions you could expect from a cosmopolitan city – museums, public art, restaurants, parks and even a zoo! The hardest part will be trying to narrow it down but thankfully; plenty of Chicago's attractions are centred in the downtown area.
---
How do I go about cancelling my Chicago holiday package?
---
Is it safe to take kids to Chicago?
Chicago is generally considered a safe holiday destination for visitors young, old and in between. If you've got little ones in tow, stick to the downtown area as it's the main hub for the city's attractions and offers plenty of accommodation options.
---
When is the best time to visit Chicago?
The best time to visit Chicago is from April to May and between September and October. The summer months tend to be a little more crowded (and steamy) while winter in Chicago has a reputation for being unforgiving and frosty. That said, there's something pretty magical about Christmas in Chicago.
---
What is there to do in Chicago?
Check out Millennium Park, home to The Bean (if you know, you know), get up close with penguins at the Lincoln Park Zoo, wander the Navy Pier, get a new perspective on the Centennial Wheel or the Chicago 360 Observation Deck, ride the TILT, shop Magnificent Mile, devour your body weight in Chicago's legendary deep-dish pizza, take a free guided tour of the city, the options are endless!
---
How to find the best holiday package to Chicago?
Sign up to get the hottest deals sent straight to your phone & emails here. You can also check out our deals online, or speak to one of our Travel Experts.
---
...loading
Popular holiday destinations
---
Flight Centre acknowledges the Traditional Custodians of Country throughout Australia.