14 Things You Should Know Before Bathing In A Japanese Onsen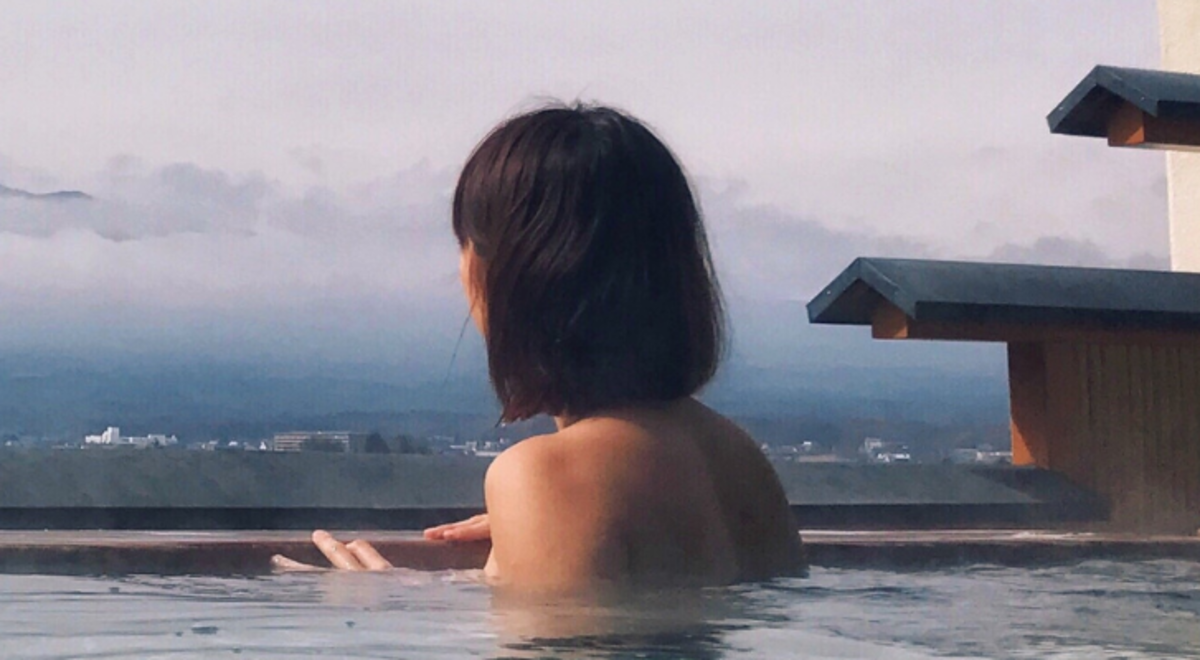 ---
---
An onsen is a natural hot spring bath ritual in Japan. They are a place of relaxation where you can soothe your muscles in steamy hot water and unwind your mind. The locals believe this purification ritual is as much about cleansing your mind of stress as it is about cleansing your body.   
While foreigners are allowed to experience and take part in this ritual, there are a number of rules on etiquette and customs you should know about when taking an onsen. This can make the experience seem quite stressful and daunting if you don't know what you are doing. But don't worry, we are here to share everything you need to know to ensure your experience will be nothing but zen.  
---
1. You Must Be Completely Nude In An Onsen  
In an onsen, nudity is not negotiable. Bathing in the hot springs in Japan is a treasured purification ritual, where swimsuits are strictly prohibited. While the idea of bathing naked with a group of total strangers may be daunting at first, you will soon realise everyone is too deep in their own state of trance to worry about their neighbours.  
But don't worry, if the thought of communal nudity scares you that much, some onsen offer private baths where you can find your bliss without fear.  
2. Men And Women Have Separate Onsen   
Traditionally, men and women bathed together in the onsen, but these days both sexes have their own dedicated section. However, young boys are allowed to go to the female sections with their mothers.  
Some small rural onsen still offer mixed-gendered sessions, however, you are generally not allowed to bath with your partner. If you are looking for a romantic experience, you can book a private onsen with your significant other.   
3. Wash Thoroughly Before Entering And Exiting  
This is an important step in the onsen ritual – and a show of respect. You must thoroughly cleanse your body before slipping into the inviting hot water. Bathing stations are provided by the side of the pool. Here you will find a shower with a small wooden stool where you are to clean your body thoroughly with soap.   
This should also be done after exiting the tub, before entering the locker room. This is important as it helps keep the locker room clean for other guests.  
4. Mind Your Surroundings While In The Shower  
It is important to be mindful of your surroundings when cleansing yourself in the shower. It is suggested to sit on the small wooden stool provided to avoid splashing people as this can ruin their relaxing onsen experience.  
---
---
5. Tattoos Are Generally Not Permitted
Traditionally, tattoos are banned in onsen so it may be useful to have some skin-coloured band-aids to cover up. This rule is a throwback to when tattoos were a trademark of Yakuza gangs. Don't worry, if you do have a bit of ink, you may be able to visit Dogo Onsen or Kinosaki Onsen, which are two tattoo-friendly venues. And, you might be asked to sign a waiver to declare you're not a part of the Yakuza!
6. There Are Indoor And Outdoor Onsen  
There are two main types of onsen: roten-buro which means outdoor and noten-buro, which means indoor. If you are looking for a more scenic experience, check out Lake Kawaguchiko which is located at the base of Mt Fuji.  
For the best experience, it is recommended that you visit during cherry blossom season. If you are looking for something more traditional, try indoor venues such as Dogo Onsen. This famous onsen boasts 3,000 years of history, making it Japan's oldest bathhouse.   
Onsen baths are particularly enjoyable in the winter – the snow monkeys in particular love a good onsen in Nagano, and there are some great local traditional inns to stay in too.   
7. Different Onsen Can Have Different Mineral Content  
Onsen baths are naturally formed by water that is heated deep below the ground and rises to the surface. Because they are natural, they are filled with minerals. Each onsen is different and is filled with its own unique blend of mineral properties, all with their own benefits.  
8. Don't Put Your Hair Underwater  
An unwritten rule of onsen is that you should never dip your hair in the water. So be sure to never put your head under the water, or if you have long hair, be sure to tie it up.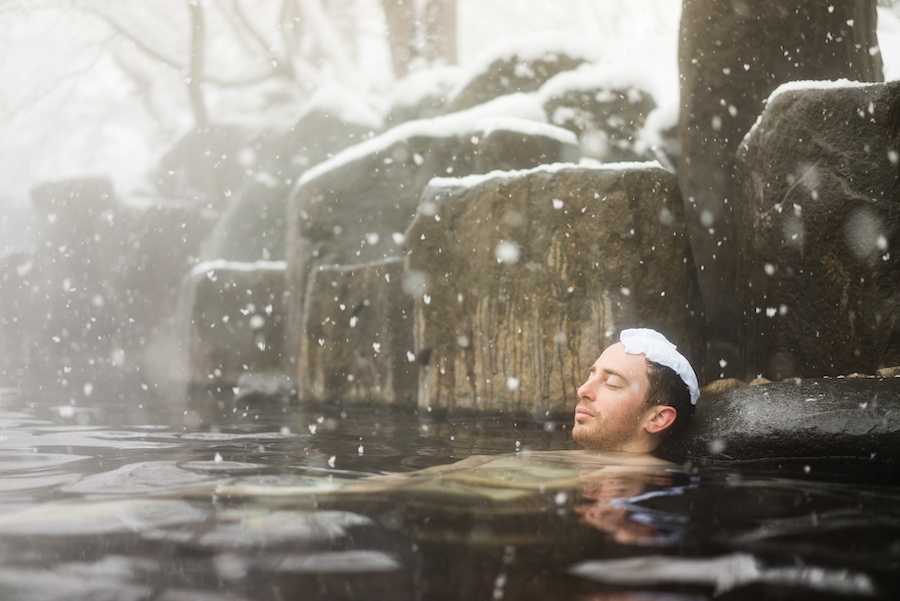 ---
---
9. Onsen Are A Place Of Relaxation  
Traditionally, they are an antidote to stress. For locals, they offer relaxation after a long day of work or business, and for tourists, they are a way to unwind after a busy day of sightseeing at places like Universal Studios Japan or Himeji Castle.   
Onsen are about quietly soaking in the hot water and enjoying the calming atmosphere. This means no running, swimming or splashing as this can ruin it for others. You are allowed to talk in an onsen, however out of respect to others you should try to keep it to a low volume. 
10. Don't Linger Near The Entrance  
When you first see an onsen, you may be tempted to pause for a minute to take in the scene. But, be mindful not to linger near the entrance for too long to avoid blocking people who may be trying to get in or out. In Japan, physical contact amongst strangers is avoided so lingering near the entrance could be seen as a violation of people's personal space.  
11. Avoid Looking At People  
When in an onsen it is important to keep your eyes down and avoid looking around. This is to maintain an atmosphere that is calming and comfortable for all other patrons. It can be hard to maintain a blank stare in such a majestic location, especially in iconic places such as Beppu Onsen – so just make sure you try not to look at anyone – and definitely do not stare.   
12. No Drunk People Inside The Bathtub  
This is not only about respect, but it also about health. Due to the high temperatures of the onsen water, it is considered to be unsafe for a heavily drunk person to soak in the tub. There should be no eating or drinking of any kind in the onsen. 
---
---
13. You Are Given Two Towels  
One full-sized towel, and one small towel. Your larger towel is left in the locker room while your smaller, modesty towel is used to cover up between the locker room and shower, and then again between the shower and onsen. But it is important to never let it touch the water.  
14. Onsen And Sento Are Different  
While a sento is a public hot bath, like an onsen, it is not connected to a natural spring. In Japan, you may also find 'super sento' which offer a more elegant experience and offer a variety of saunas, baths and other services. 
So, there you have it! Who knew bathing could be so particular! Everything in Japan is an experience, even taking a bath! Perfect after a day of skiing, sightseeing or simply for the pleasure of relaxation. You can't go to Japan and not try an onsen! If you're unsure what to do, just politely ask the on-hand staff at the onsen or sento.  
---
---
---
Flight Centre acknowledges the Traditional Custodians of Country throughout Australia.