Los Angeles is more like a cluster of mini-cities than one easily-defined metropolis, and more than 18 million people call the expansive Los Angeles Metropolitan Area home. As you can imagine, there's plenty of Los Angeles accommodation to choose from in this sprawling location.
The question is, what type of stay are you looking for? Beaches within walking distance of your Los Angeles hotel? Somewhere close to Hollywood? A hotel near Disneyland? Check out our introduction to Los Angeles accommodation, below.
Compare Cheap Los Angeles Hotel Deals
Choose your style of Los Angeles hotel
Hotels in Los Angeles come in all shapes and sizes. There are ultra-luxury options such as the Peninsula Hotel in Beverly Hills and the Hotel Shangri-La at the Ocean in Santa Monica. There are hotels near theme parks such as the Sheraton Universal Hotel, slick hotels fit for business, such as JW Marriott Los Angeles in the Downtown Financial District and family-friendly hotels such as the 3.5-star Magic Castle hotel located in Hollywood. There are also relaxed and airy beachside suites, quirky hotels like the pink and turquoise art deco Cadillac Hotel, and countless guest houses, B&Bs, inns, hostels, boutique hotels, villas, bungalows... this is LA after all, so you'll be dazzled with options.
Where to stay in Los Angeles
Beverly Hills is midway between Hollywood and the beaches, and where you'll be surrounded by fabulous shopping, restaurants (as well as have the highest chance of bumping into a celebrity). Downtown LA is the geographical centre of the city and has been undergoing something of a renaissance in recent years. Here you'll be in walking distance of some of LA's best museums and galleries as well as some great new restaurants. Accommodation in Santa Monica or Venice is what you need if you have your heart set on a palm-tree-lined, beachside Los Angeles experience. If you're travelling with the kids, Long Beach is a good option – closer to some of the more family-friendly tourist attractions and less expensive that other parts of LA.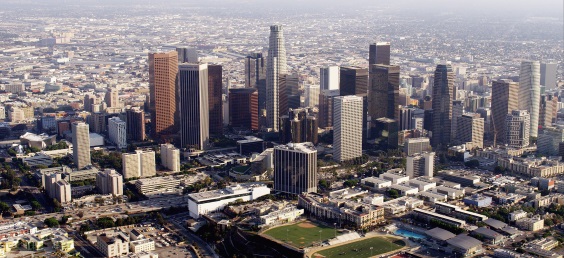 Best time to stay in Los Angeles
In terms of weather, Los Angeles enjoys a mild climate all year round, so pretty much anytime is a good time to stay. Los Angeles will be less crowded in winter, and the early months of the year usher in awards season, which brings with it a palpable buzz. Spring is warmer, slightly busier, and you should try to avoid the 'Spring Break' dates if you can. These change every year, and are aligned with Easter. LA in summer is a hotspot of music festivals, outdoor cinema, concerts and more, although there are bigger crowds. Autumn can bring hot winds, although the Day of the Dead celebrations following Halloween are something to see.
Getting around Los Angeles
Because Los Angeles is a mega-city in terms of size, just jumping in a taxi every time you want to go somewhere is going to seriously eat into your holiday budget. Get to know the Metro, which encompasses trains, light rail and buses. Six lines serve 80 stations across LA County, with Metro Rail connecting Downtown LA, Hollywood, Westside, Culver City, the San Fernando Valley, Pasadena, East LA, the Beach cities and Long Beach. Cycling is also popular in LA, but make sure you lock your bike up well and take your helmet with you. Car is a great way to explore LA but you'll need to be confident driving on the right-hand side of the road, and be ready to navigate the busy freeways.
Accommodation The Easy Way
What's the easiest way to arrange your accommodation in Los Angeles? Let one of our travel experts do it for you! As well as access to all the latest deals, they have insider hints, tips and a wealth of travel experience to draw on... and they love to create amazing holiday packages.
Talk to a travel expert and personalise your trip