Australia's west coast metropolis is creative, outdoorsy, fun, business-minded and the gateway to countless surrounding attractions. If you're visiting the city, Perth accommodation in the CBD will put you within easy reach of cutting-edge restaurants and bars, as well as Perth's nightlife, shopping and business centres.
Perth hotels that lie a little further out, such as in the coastal suburbs of Cottesloe and Scarborough, will give you an entirely different experience of Perth altogether. Take a look at our guide to Perth hotels and accommodation, below.
Compare Cheap Perth Hotel Deals
Choose your style of Perth hotel
Hotels in Perth abound for just about every budget, but in terms of style, boutique city hotels such as Como the Treasury Perth are leading the way. It's the epitome of understated contemporary luxury, and has just 48 rooms. Perth also has its 5-star classics, such as the Pan Pacific Perth, as well as many 3- and 4-star options in the CBD, like Mantra on Murray. Venturing out of the CBD, Perth accommodation in seaside suburbs is all about beach houses, beach chalets, apartments and mid-range beach hotels.
Where to stay in Perth
Perth City is the densest area of the city and puts you right in the heart of the CBD, close to hundreds of amenities, landmarks, galleries, shops, and transport. If you're planning to immerse yourself in Perth's booming cultural spaces, Perth City is the perfect place to base yourself. If you're excited to spend time in Perth's great outdoors, Cottesloe Beach is the smart place to start. Filled with beautiful accommodation both new and old, staying in Cottesloe Beach puts you close to the water and all of the activities that go along with it. If you're interested in Perth's rich maritime history, consider staying in Fremantle. It's one of Perth's oldest suburbs – a beautiful port city set at the mouth of the Swan River and home to the west's only national AFL team.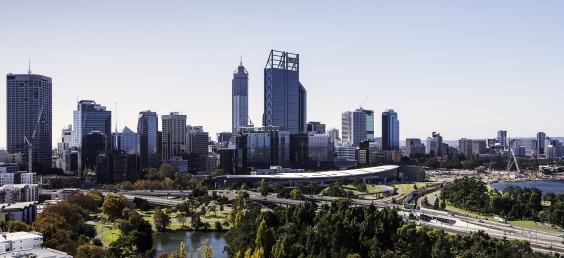 Best time to stay in Perth
Fans of Perth will tell you that the best time to stay is from late winter through spring, so from August to November. This is when rain is scarce and the world-famous wildflowers in the state are in bloom. Summer can be very hot but is also quite dry. Weather is not the only consideration when visiting Perth, and the city's festival and events calendar is loaded with things to do over spring.
Getting around Perth
Getting around Perth is easy due to its relatively small size and range of transport options. The city's Free Transit Zone (FTZ) enables you to travel on any bus within the City of Perth for free, and this zone is covered by three free Central Area Transit (CAT) services: yellow, red and blue, each operating across a different area. There are three train stations in the main tourism and shopping precinct of the city, and more stations to access the wider city area. Perth has several major taxi companies, and ferries from Elizabeth Quay cover a variety of routes.
Accommodation The Easy Way
What's the simplest way to arrange your accommodation in Perth? Let one of our travel experts do it for you! As well as access to all the latest deals, they have insider hints, tips and a wealth of travel experience to draw on... and they love to create amazing holiday packages.