Lose yourself in the glitz and glamour of Las Vegas. Bet all you like once you've arrived, but don't take a gamble on getting the most of your Las Vegas experience! Book a Las Vegas tour so you're not left feeling short-changed. Whether you're looking to discover the many sights along the strip or wanting to get out into the diverse Nevada wilderness, Flight Centre has a range of tours that are sure to appeal to all the blackjack, roulette or poker faces out there.
Don't miss these Las Vegas attractions
Grand Canyon helicopter tours
Pool party tours
Hoover Dam mountain bike tours
Wet 'n' Wild Las Vegas
Las Vegas city tours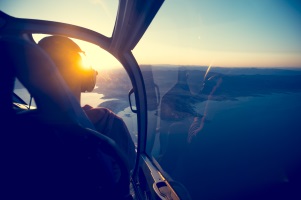 VIP treatment
A great way to navigate around 'Sin City' is on a guided city day tour, discovering the city's fascinating history along the way. City tours generally include a trip down along the famous Strip, and an opportunity to view some of the most luxurious casino resorts in the world including the Bellagio, MGM Grand, Caesars Palace and the Venetian.
On the other hand, experience the entertainment capital of the world on a city by night tour or VIP nightclub tour. There are numerous entertainment options available such as catching an acrobatic Cirque du Soleil show, dinner cruises on Lake Mead or all-access passes to the biggest parties.  
Take a day trip
Las Vegas is also a popular departure point for other attractions in the region such as the Grand Canyon and Hoover Dam. Whether you wish to glide atop Lake Mead on a paddle wheeler or take a scenic flight over the Grand Canyon, guided tours make sure you don't miss the opportunity to survey each of these iconic American wonders.
Other popular attractions outside of the city include a Zipline tour of Bootleg Canyon or soaring into the sunrise within a hot air balloon over The Mojave Desert. You can also spend more than one day out in the wilderness, thanks to camping tours that take you through the area's national parks.