Dubbed the City of Angels, Los Angeles is the place where dreams can come true. The city itself has several distinct areas, making a guided group or private tour the perfect way to explore this fascinating Californian destination. There are a range of options to appeal to all tastes and budgets without having to self-navigate LA's highways, from celebrity spotting on a Hollywood homes bus tour, walking up Runyon Canyon, or cycling along Santa Monica Pier. 
Don't miss these Los Angeles attractions
Shopping on Rodeo Drive
Hollywood Walk of Fame
Santa Monica
Hop-on, hop-off city tours
Disneyland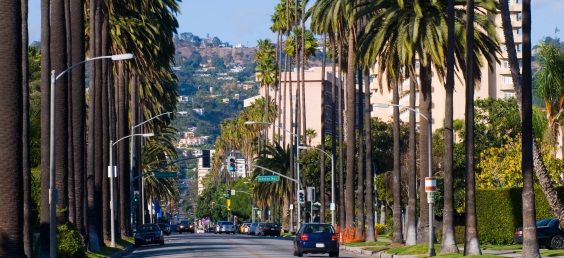 Celebrity fever
A Los Angeles city tour or a hop-on hop-off bus tour provides the perfect introduction to the city. Tours are designed to indulge your inner celebrity crushes - visiting iconic watering holes seen in classic films and sipping cocktails as you learn about all the glitz and glamour of Hollywood.
Take a peek at the elaborate homes in Beverly Hills, the ritzy shopping on Rodeo Drive, the infamous Sunset Strip and the quirky Venice Beach – looking out for star sightings along the way. If all else fails, there's always stars to be seen, immortalised into the pavement at the Hollywood 'Walk of Fame'.
Surf, dine or play
On the other hand, why not take a day tour to Malibu Beach or Santa Monica. Discover the Malibu Wine Trail on a guided tour and sample local award-winning wines alongside a delicious meal. Tours of Santa Monica and Venice Beach highlight the vibrant Santa Monica Pier and Venice Boardwalk.
Another popular touring style, is a foodies trip through Los Angeles' neighbourhoods. On this adventure you'll visit delectable fresh food markets and family owned authentic restaurants. For the family, Disneyland and Universal Studios are absolutely unforgettable with thrilling rides and entertainment suitable for all ages.