Immerse yourself in the pristine wilderness of breathtaking New Zealand, where wild river rapids, snowy ski slopes and authentic Maori culture can be enjoyed. From adventures across the same landscapes seen in The Lord of the Rings trilogy, to the bustling Auckland metropolis, there are so many sides to the country. You'll find so much more than just hobbits when you jump onboard a New Zealand tour with Flight Centre, taking you through one of the most spectacular countries on earth.
Don't miss these New Zealand attractions
Milford Sound cruises
Jet boat rides in Queenstown
Zealandia
The Lord of the Rings themed tours
Te Anau glow worm caves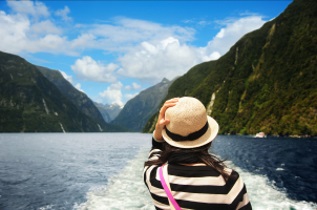 Hidden gems
Tour options in New Zealand can range from day trips to extended holidays that explore many of the most stunning sights on the South Island, the North Island or both. You'll be pleasantly surprised by the many hidden gems in this gorgeous country, such as the atmospheric Larnach Castle in Dunedin or the stunning Art Deco architecture of 1930s-built Napier.
Take a tour in Rotorua and visit the Te Wairoa Village, or watch a traditional Maori 'haka' and learn a little about New Zealand's long and storied indigenous culture. In a land in which European and indigenous influences meld seamlessly to create a unique local experience, there are always plenty of cultural pursuits to enjoy.
Scenic terrain
For an insight into a more natural side of New Zealand, sign up for a scenic flight over the stunning Milford Sound and the adjacent Tasman shoreline. There are also glaciers to experience, geothermal springs to admire and mud pools to soak in. For a cinematic experience of an entirely different kind, you can also take a horseback tour of the stunning natural backdrops put to such thrilling use in The Lord of the Rings films.
Elsewhere, you can get your blood pumping in the adrenaline seeker's paradise of Queenstown and enjoy some additional tour activities such as bungee jumping and skydiving on the side. The ski resorts of nearby Wanaka are just a short hop away, or should the summer sun be shining, then you can always sip some of New Zealand's finest wines on a dedicated winery tour.