Perfectly located, where the rainforest meets the reef, Cairns attracts visitors from all over the world. As such, Cairns accommodation ranges from cheap and cheerful backpacker hostels to luxury 5-star hotels, where every room has a private balcony and view of the water. From Cairns there is just so much exploring to do, and the friendly vibe of the city combined with its welcoming hotels and resorts could see you staying just that little bit longer.
Below is a guide to Cairns hotels, to help you find the accommodation you're looking for.
Compare Cheap Cairns Hotel Deals
Choose your style of Cairns hotel
If you're heading to Cairns to use it as a hub for embarking on a whole stack of incredible experiences, you may wish to spend as little on your Cairns accommodation as possible. That's where the city's well-known backpacker hostels come in, with Gilligan's on Grafton Street being the most legendary. Mid-range Cairns hotels abound, just a few blocks from the waterfront, and if you prefer a 5-star stay, several big-name hotels in town will more than deliver.
Where to stay in Cairns
In prime position is the Shangri-La Hotel on the Marina, overlooking the Cairns Esplanade Lagoon and with views across Trinity Bay or Marlin Marina. At this end of the Esplanade you'll find a cluster of 5-star hotels, with the Hilton Cairns, Pullman Reef Hotel Casino and Pullman Cairns International nearby. Behind these luxury Cairns hotels lie several 3- and 4-star hotels, and heading north, there are many mid-range hotels between the Esplanade and Sheridan street.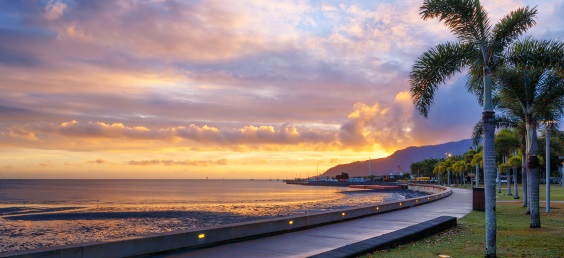 Best time to stay in Cairns
Like the rest of Tropical North Queensland, Cairns has two seasons: wet and dry. During the winter months, from June to August, Cairns has a very pleasant climate and tends to be dry, with clear skies. In summer, Cairns experiences a hot and humid tropical climate, during which a steamy day often ends in a late afternoon storm. Summer is also when the surrounding rainforest is at its most lush, with waterfalls flowing freely. The best time to stay in Cairns depends on what you like and what you're there for – migrating humpback whales can be seen in winter, while white water rafting is better in summer, with all the rain.
Getting around Cairns
Cairns is quite flat and compact in size, so it's very easy to get around just by walking. If that's not your style (or you've been indulging in some of Cairns' finest retail therapy) buses or taxis are a good option. The bus service in Cairns is provided by Sunbus, and most routes start at the Cairns City Mall. Taxis are easy to hail but it's best to find a taxi rank during busy periods. If you want to head up into the rainforest or Atherton Tablelands, there are plenty of four-wheel-drive tours that will pick you up from your Cairns hotel and drop you back again at the end of the day.
Accommodation The Easy Way
What's the simplest way to arrange your accommodation in Cairns? Let one of our travel experts do it for you! As well as access to all the latest deals, they have insider hints, tips and a wealth of travel experience to draw on... and they love to create amazing holiday packages.
Popular Destinations in Queensland