Welcoming more than 20 million people each year, Sentosa is a hugely popular island resort off Singapore's southern coast, where you can visit theme parks such as Universal Studios Singapore, play golf, explore the restored Fort Siloso, lounge on sunny beaches and indulge in rejuvenating day spas. As a playground destination with no limit to the fun on offer – day and night – the island includes several 5-star resorts and a selection of mid-range hotels.
Browse through our guide to Sentosa accommodation, below.
Compare Sentosa Island Hotel Deals
Choose your style of Sentosa Island hotel
While Sentosa is not an island resort exclusive to families, it's certainly a destination that makes families feel welcome and offers plenty of family-friendly accommodation. At the top end you can find super deluxe beach villas that complete with swimming pool and butler service, with the most economical options consisting of 4-star and the occasional 3-star hotel. Bear in mind that Sentosa is all about luxury and rooms will be priced accordingly.
Where to stay on Sentosa Island
Where you stay on Sentosa Island really depends on how much you wish to spend. Given that Sentosa Island is relatively compact and the majority of the Sentosa hotels are 5-star, you can feel confident that wherever you stay will give you easy access to great restaurants, all the attractions, with beaches not too far away either. Both Festive Hotel Singapore and the Hard Rock Hotel Singapore are family-friendly hotels, located toward the north of the island, between Adventure Cove Waterpark and Universal Studios Singapore.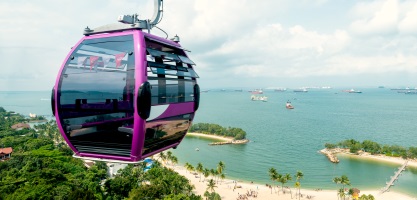 Best time to stay on Sentosa Island
As with greater Singapore, wettest months are from November to January while the driest months – from June to August – are also the busiest. Anytime from October to December is a good time to visit, with slightly cooler temperatures and a low likelihood of rain. Sentosa is also home to some big events such as the SMBC singapore Open, so make sure you consult your Flight Centre Travel Expert about what to expect during your intended travel dates.
Getting around Sentosa Island
It's easy to get around Sentosa Island, which covers an area of just close to five square kilometres in total. There are five different bus services on the island, which can take you to all the major attractions. There are also two mini (tram-like) train services on Sentosa, referred to as the 'Beach Train' because, you guessed it, they take passengers to the island's beaches. If you're staying in one of the island's resorts, you may also like to make use of the island's taxi service known as Blue Comfort cabs.
Accommodation The Easy Way
What's the simplest way to arrange your accommodation on Sentosa Island? Let one of our travel experts do it for you! As well as access to all the latest deals, they have insider hints, tips and a wealth of travel experience to draw on... and they love to create amazing holiday packages.