While the Whitsundays may have some 74 islands to its name, only a handful are inhabited, which all adds to the dreamy allure of the region. There are a number of family-friendly Whitsundays accommodation choices scattered around the islands, although luxury retreats are a specialty – and these are some of the most spectacular in the world.
Check out our guide to Whitsundays hotels and resorts to find the accommodation that's right for you.
Compare Cheap Whitsundays Hotel Deals
Choose your style of Whitsundays hotel
If you're looking for Whitsundays accommodation in the realm of a 5-star, adults-only resort with private salt-water plunge pool (hello qualia), you'll have plenty of choice, with some very fine top-end resorts to choose from. Hamilton Island offers the full spectrum, from qualia as mentioned, to apartments, villas and bungalows to suit every budget. If you'd rather spend your holiday budget on experiences rather than accommodation, Airlie Beach on the mainland has everything from backpacker hostels to good-value lodges and hotels ranging from 3- to 5-star.
Where to stay in the Whitsundays
Airlie Beach is a perfect place to stay if you plan on doing multiple day trips and want to come back to a vibrant mainland destination each night. Nomads Airlie Beach or Base Airlie Beach Resort are good-value backpacker-style hotels, while the 4-star Airlie Beach Hotel has been completely renovated. Airlie Beach does 5-star too, at Peppers Airlie Beach. Hamilton Island also offers couples something special with the adults-only qualia resort, but has great options for families too. After a stunning refurbishment, Daydream Island will reopen late 2018 with families, couples and groups all catered for. And, for the ultimate in freedom, you could always hire a yacht and call that your Whitsundays home.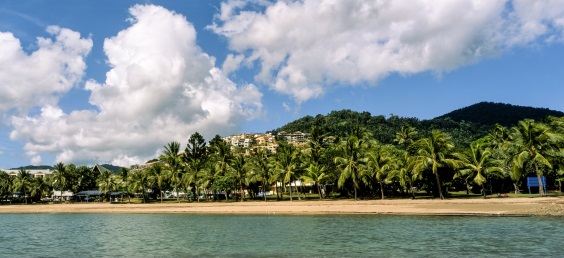 Best time to stay in the Whitsundays
One of the best times to visit the Whitsundays is during the month of September. At this time of the year, the days are nice and warm, without the higher humidity that comes with the hotter summer months. September is also the driest month, and falls outside of the region's stinger season. While stinger season runs from October through to May, tour operators in the Whitsundays offer the use of stinger suits to help protect you when you're in the water.
Getting around the Whitsundays
If you're planning on doing more than simply putting your feet up and enjoying your resort, there are a few different options for getting around the Whitsundays. Firstly, ferry services run between several of the islands, and tour operators offer day trips out to Whitehaven Beach, the Great Barrier Reef and other Whitsunday Islands. Several companies offer charter flights and scenic flights, while chartering a yacht or catamaran is also an excellent way to discover more than one Whitsunday island, at your own pace.
Accommodation The Easy Way
What's the simplest way to arrange your accommodation in the Whitsundays? Let one of our travel experts do it for you! As well as access to all the latest deals, they have insider hints, tips and a wealth of travel experience to draw on... and they love to create amazing holiday packages.
Popular Destinations in Queensland