Whether you're using as Adelaide as a base from which to explore South Australia's famous wine regions or simply taking time out to discover the increasingly hip city itself, you'll find plenty of choice when it comes to Adelaide accommodation. The city's compact CBD has some fine hotels and elegant business accommodation, while nearby beachside suburbs have some tempting hotels as well.
Discover more about Adelaide accommodation by checking out our guide to staying in Adelaide, below.
Compare Cheap Adelaide Hotel Deals
Choose your style of Adelaide hotel
Top of the range is totally doable in Adelaide, with the Mayfair on King William Street leading the charge. There are several luxury hotels in the city, and most can accommodate travellers with business needs, such as conference rooms, meeting spaces and business lounges, even though they're not strictly 'business hotels'. Adelaide also has a good choice of budget-friendly accommodation, and mid-range to 5-star hotels right on the beach at Glenelg.
Where to stay in Adelaide
If you plan to explore the city, the best place to stay in Adelaide would be the CBD itself. Most of the restaurants and bars are here, and the grid-like pattern of boulevard-style streets makes it easy to find your way around. If you'd rather wake up with a view of the ocean framed by a picturesque pier, then look for accommodation like luxury resorts or beachside family apartments in the region of Glenelg, Brighton or Seacliff – all still within a 30-minute drive of the city.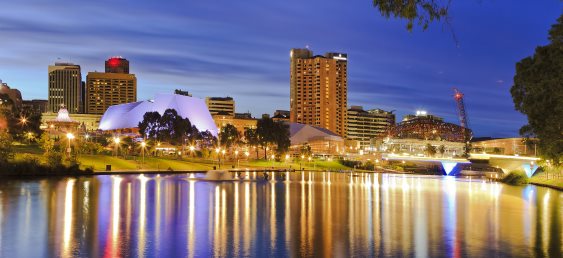 Best time to stay in Adelaide
As far as the weather goes, Adelaide experiences mild winters and a warm, dry summer. June is the wettest month, although Adelaide is the driest of all the Australian capitals. Adelaide also has a thriving festival scene, mostly during the months of February and March, and the city accommodation can fill up fast. September is the season for footy finals, so keep this in mind if you're travelling over key weekends at this time of year. Wineries around Adelaide are open all year round.
Getting around Adelaide
The CBD of Adelaide is just a 20-minute drive from the airport, and its simple street layout makes it a breeze to navigate. The city has an integrated bus, train and tram network, and taxis are plentiful. Adelaide is also wonderfully flat so if hiring a bicycle is your thing, you'll be in heaven. The city centre of Adelaide is also a tiny 10 square kilometres in total, so walking is a great way to find your way around the streets.
Accommodation The Easy Way
What's the simplest way to arrange your accommodation in Adelaide? Let one of our travel experts do it for you! As well as access to all the latest deals, they have insider hints, tips and a wealth of travel experience to draw on... and they love to create amazing holiday packages.