Arriving on Castaway Island is like rolling up to the luxury home of your favourite Fijian family. The island is privately owned, and Castaway Island accommodation is in the form of the traditional Fijian bure, or bungalow. As a guest, you'll have 27 Island, 12 Ocean View and 27 Beach bures to choose from, as well as other configurations designed to accommodate a larger group, such as the Family Beach bure.
For the perfect mix of adventure and relaxation, combined with incredible Fijian hospitality, Castaway Island resort has everything you need for an unforgettable Fijian holiday.
Compare Castaway Island Deals
Things to do on Castaway Island
Whether your Fijian holiday is all about relaxing in a hammock with a view of the crystal clear water or taking to the sea to scuba dive amongst the surrounding coral reefs, Castaway Island has every possibility covered. Water sports are one of the most popular attractions, with snorkelling, kayaking, paddleboarding some of the favourites. If diving is on your list, Castaway Island even has its own PADI Five Star Gold Palm dive school and specialty courses; over four days you can take the PADI International Open Water Certification and become a qualified diver. Other activities on Castaway Island include tennis, massage treatments, and if any of the kids want their hair braided, that's possible too.
Best time to stay on Castaway Island
Castaway Island shares the same high and low season as the rest of Fiji, with high season stretching from June to September, and then on through December and January. Shoulder season is the best time to stay, which is anytime from May to October. In Fiji, this is also the dry season, when humidity and rainfall are both lower, and the temperatures milder.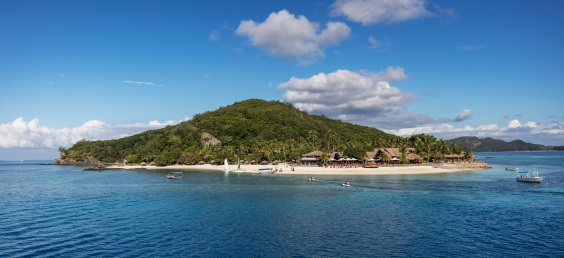 Getting around Castaway Island and the Mamanuca Islands
Travelling to Castaway Island from the Fijian mainland is just a short trip by seaplane, helicopter or boat. Given that Castaway Island is located in the heart of the Mamanuca group of islands, island hopping is one of the most enjoyable experiences to be had during your stay. From Castaway Island you can take the Teivovo speed boat on a day trip of discovery around the Mamanuca islands, which includes a picnic lunch and refreshments.
Staying in the Mamanuca Islands
The Mamanuca Islands are one of Fiji's most sought-after holiday destinations, lying to the west of Nadi and to the south of the Yasawa Islands. Travellers are drawn to their warm turquoise waters, white sandy beaches and picture-perfect scenery. Accommodation in the Mamanucas ranges from surfer's sanctuaries and simple backpacker hotels to expansive, family-friendly resorts and 5-star boutique retreats.
Accommodation The Easy Way
What's the simplest way to arrange your accommodation in Castaway Island? Let one of our travel experts do it for you! As well as access to all the latest deals, they have insider hints, tips and a wealth of travel experience to draw on... and they love to create amazing holiday packages.
Talk to a travel expert and personalise your trip