Fiji accommodation is all about the beautiful beachfront resort. Think: crystal clear lagoon pools, sun-drenched balconies and traditional Fijian cottages – called bures – right on the water's edge. Within this collection of dream accommodation, you'll find the Fiji hotel that is just what you're looking for, whether that's 5-star luxury and privacy on tiny Navini Island, or all-inclusive family holiday fun along Viti Levu's picturesque Coral Coast.
Browse through our curated list of hotels in Fiji to find your perfect holiday escape, whether it be a mainland resort or boutique hotel on an island off the coast.
Compare Cheap Fiji Hotel Deals
Choose your style of Fiji hotel
Exclusive overwater bure or action-packed family resort? Fiji accommodation comes in a range of different styles, with something to suit all budgets and holiday preferences. For a truly relaxing getaway, many of the Fiji hotels and resorts offer all-inclusive packages – especially wonderful if you're travelling with children and want to take advantage of kids' clubs and other onsite amenities. For something a little more exclusive, try one of Fiji's many boutique resorts, either on the mainland or outlying islands. If you're looking for accommodation in Fiji with a more authentic feel, you may like to experience the local culture through a village homestay.
Where to stay in Fiji
The kind of Fiji accommodation that will appeal to you has a lot to do with what you want out of your holiday. Pure, postcard-perfect relaxation with more than a little pampering? The 5-star hotels in Fiji are mostly dotted around the southern coast of the main island Viti Levu, between Nadi, including Denarau Island, and Suva. The Mamanuca and Yasawa Island groups also have their fair share of exclusive resorts. If diving is what you're after, consider staying at some of the dive resorts on Vanua Levu, Taveuni or down on Kadavu, which is close to the Great Astrolabe Reef.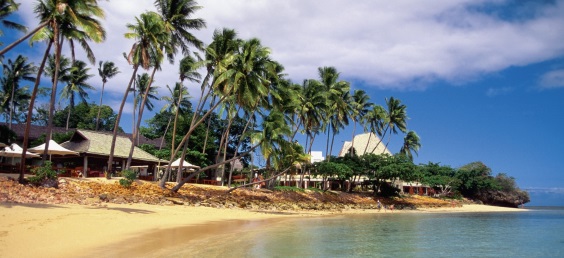 Best time to stay in Fiji
In Fiji, high season is from June to September, and through December and January, lining up with school holidays in Australia and New Zealand. The best time to stay is during shoulder season, so book your Fiji accommodation for anytime from May to October. This is also known as dry season and technically the Fijian winter, when rainfall and humidity are both lower, and the temperatures are generally milder. If you're diving, visibility tends to peak between the months of July and December when the water is cooler.
Getting around Fiji
If you're venturing beyond your resort ­– and why wouldn't you, with so much to see? – getting around Fiji can be achieved by chartered seaplane or helicopter, domestic flight, boat, bus, taxi or just about any other way you can think of. Vita Levu is linked to Vanua Levu, Taveuni, Ovalau and Kadavu via regular ferry service and every day you'll find several high-speed catamarans making the trip between Nadi and the Mamanuca islands. Buses are cheap and frequent on the larger Fijian islands and taxis are abundant but make sure you agree on a fare if the driver isn't using the meter.
Accommodation The Easy Way
What's the simplest way to arrange your accommodation in Fiji? Let one of our travel experts do it for you! As well as access to all the latest deals, they have insider hints, tips and a wealth of travel experience to draw on... and they love to create amazing holiday packages.