Gold Coast accommodation is at its most iconic in the glittering high-rises of Surfers Paradise, but that's not all you'll find when you're looking for a Gold Coast hotel. Self-contained apartments are very popular, as is boutique beachfront accommodation in other destinations such as Burleigh Heads and Currumbin, and the B&Bs and charming small hotels of the Gold Coast hinterland offer another type of experience altogether.
Compare Gold Coast Hotel Deals
Choose your style of Gold Coast hotel
For some, it wouldn't be a holiday on the Gold Coast without staying in a skyscraping hotel. This kind of accommodation gives you privacy, spectacular views, a resort pool and most importantly, close proximity to the beach. For families and larger groups, spacious self-contained apartments are a good budget-friendly option and the Gold Coast is brimming with these, often very close to the beach as well. Gold Coast accommodation also includes an abundance of resorts, mid-range hotels and motels that give you everything you need for a back-to-basics beach holiday.
Where to stay on the Gold Coast
In general, the northern end of the Gold Coast is busier, ritzier and has a higher density of restaurants, bars and nightlife. Surfers Paradise is where you'll find all the party action, although things get a little quieter further north at Main Beach. South of Surfers Paradise, the beaches continue to impress, with Burleigh Heads offering a slightly more sheltered beach as well as some of the best surf breaks on the Gold Coast. Currumbin and Tallebudgera are popular with families because of their proximity to estuaries and a gentler water experience for smaller children. If you want something completely different and you're travelling during winter, consider curling up by the fire in some of the hotels in the Gold Coast hinterland.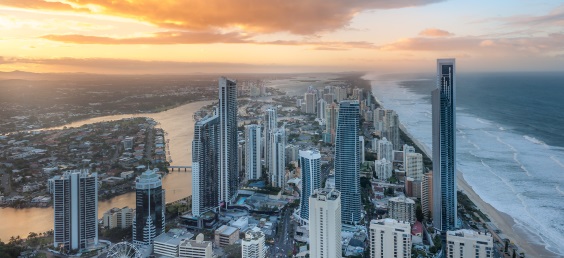 Best time to stay on the Gold Coast
The Gold Coast enjoys spectacular weather all year round with roughly 300 days of sunshine a year. It gets very busy over the Christmas break and summer school holidays in Australia, which last from early December through to mid February. The one time you want to avoid the Gold Coast is during Schoolies Week, which is when school leavers hit the Gold Coast to party. Best time to stay on the Gold Coast is almost anytime, and if you want to enjoy the hinterland atmosphere at its cosiest, best time to stay is during winter.
Getting around the Gold Coast
If you're looking to travel quite widely around the Gold Coast, bus or hire car is the best way to get around. Translink's Surfside Buslines has bus routes up and down the coast, for which you'll need the 'go explore Gold Coast' card. This card offers unlimited one day TransLink Gold Coast bus and tram travel, includes the Airport bus 777 to and from airport, plus express bus services to the theme parks. G:link is the Gold Coast's light rail service, or tram, linking Broadbeach to Southport, as well as stations further north.
Accommodation The Easy Way
What's the simplest way to arrange your accommodation on the Gold Coast? Let one of our travel experts do it for you! As well as access to all the latest deals, they have insider hints, tips and a wealth of travel experience to draw on... and they love to create amazing holiday packages.
Popular Destinations in Queensland