Romantic honeymoon? Annual family getaway? Landmark 40th birthday celebrations with a bunch of friends? Hamilton Island accommodation has every possible scenario sorted, with options that range from a spectacular beachfront adults-only resort to more than 100 self-catering apartments, units and holiday homes.
Check out our round-up of Hamilton Island accommodation options, below.
Compare Hamilton Island Hotel Deals
Choose your style of Hamilton Island hotel
If you're seeking the epitome of luxury, Hamilton Island resort qualia ticks all the boxes. Located on the secluded northern tip of Hamilton Island, this resort is exclusively for guests aged 16 and over. Also for couples is the boutique Beach Club resort, another adults-only resort, right on Catseye Beach. If you prefer a hotel stay with all its services, the Reef View Hotel is iconic Hamilton Island. And, for families or groups of friends, additional options for Hamilton Island accommodation come in the form of Beach Bungalows, self-catered Holiday Homes and Yacht Club Villas.
Where to stay on Hamilton Island
Where to stay most likely comes down to what kind of Hamilton Island accommodation you're looking for. At the northernmost tip of the island, away from all other accommodation, is qualia. On the island's western side, right near the Yacht Club are the Yacht Club Villas. A little further around toward the Marina are Hamilton Island Private Apartments. On the eastern side of the island, overlooking Catseye Beach, is where you'll find the Beach Club Resort, the Reef View Hotel and the Palm Bungalows.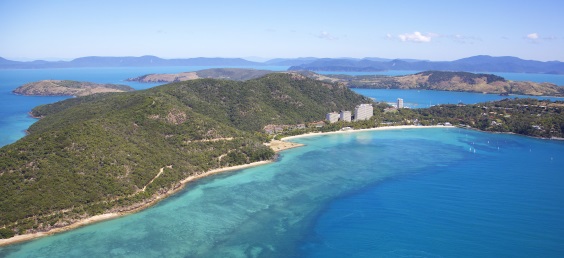 Best time to stay on Hamilton Island
Hamilton Island enjoys mild weather all year round, with the summer months seeing more rainfall than in winter. The tropical climate means that even when there are brief showers, the clouds soon give way to clear, sunny skies. Hamilton Island is popular in the school holiday periods, particularly over Christmas. From April to June, the air is crisp and there's less chance of rain, although water temperatures are cooler. Hamilton Island Race Week, one of the world's most famous yachting events, is held in August each year.
Getting around Hamilton Island
It's a breeze to get around Hamilton Island, thanks to the iconic Hamilton Island Golf Buggies. As this is a car-free island, your options include the buggy, Island Shuttle bus service, or walking. The Island Shuttle is a complimentary bus service and operates every day from 6.50am to 11pm on selected routes. Buggies for hire are available in both 2-seater and 4-seater configurations.
Book Online With No Online Booking Feeˇ
Ready to book? Check out the popular InterContinental Hayman Island Resort and book online with no feeˇ
Talk to a travel expert and personalise your trip