Melbourne accommodation caters to everyone from the busiest business traveller to anyone who's in town just to enjoy this exciting city. With that in mind, you'll find no shortage of places to stay in Melbourne, with options ranging from luxury suites in world-class CBD hotels to minimalist overnighters, serviced apartments or boutique places to lay your head in the city's diverse neighbourhoods.
Browse through our guide to Melbourne accommodation to find out more about where to stay in this great Australian city.
Compare Cheap Melbourne Hotel Deals
Choose your style of Melbourne hotel
Are you wanting somewhere simple and comfortable to retreat to at the end of a long business day, or more of a home-away-from home as you experience the delights of Melbourne? 5-star Melbourne accommodation such as the Crown Metropol offers loft-style rooms and a world-class spa, while the neat and tidy 3-star Ibis Budget Melbourne CBD hotel ticks all the boxes for a work trip. Boutique hotels will give you an entirely different experience, often nestled in amongst Melbourne's character-filled suburbs such as St Kilda.
Where to stay in Melbourne
Perched on the banks of the Yarra River, hotels in Melbourne's Southbank give you an ideal base for exploring the inner-city or getting into town with ease for early morning business. Home to the illustrious Crown Casino and an array of promenade eateries, Southbank accommodation offerings include the 5-star Pan Pacific Melbourne and Mantra Southbank, as well as a selection of 4-star apartments in the heart of this entertainment precinct. Around the riverbend, Docklands has all the best elements of Melbourne life: art, culture, food, wine and sport. Just minutes from the CBD you will find a handful of 4-star Docklands hotels circling the waterfront, backing onto Etihad Stadium (aka Docklands Stadium). The closest Melbourne accommodation choices near the airport are the Parkroyal and Mantra Tullamarine Hotel.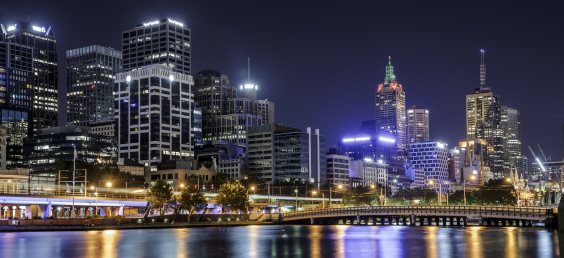 Best time to stay in Melbourne
While Melbourne can be quite cold in winter and very hot in summer, anytime is a good time to stay if you're considering the weather. What you will need to be aware of when planning your stay is the city's big events. Melbourne gets incredibly busy during the footy finals during September and October, for the Melbourne Cup in November, the Australian Open in January and the Formula 1 Australian Grand Prix in late March – just to name a few. That said, these events give the city a contagious buzz, so it depends what you're looking for.
Getting around Melbourne
Melbourne has an extensive public transport system that includes buses, trams, trains, water taxi and ferry. The city is also well serviced by taxi and you won't have any trouble finding an Uber driver. Melbourne has an extensive network of bike lanes and if you're hiring a car or a motorbike, make sure you are fully aware of all the rules related to sharing the road with trams. Note that Melbourne Airport at Tullamarine lies around 20 kilometres from the CBD, with the 24/7 Skybus service the most convenient option, while a taxi will get you into the city in the shortest space of time.
Accommodation The Easy Way
What's the simplest way to arrange your accommodation in Melbourne? Let one of our travel experts do it for you! As well as access to all the latest deals, they have insider hints, tips and a wealth of travel experience to draw on... and they love to create amazing holiday packages.