This seaside town, just a 30-minute drive from Cairns, is the epitome of barefoot luxury. If you're looking for Palm Cove accommodation to complete the picture of an idyllic tropical paradise, you won't be short on options. Holidaymakers will find beautiful resorts hidden amongst lush, native gardens just steps from the water.
Palm Cove hotels can be secluded and intimate, but this destination is not just for romantics, with families enjoying its relaxed welcoming atmosphere too. Check out out guide to hotels in Palm Cove and find the holiday spot you're looking for.
Compare Cheap Palm Cove Hotel Deals
Choose your style of Palm Cove hotel
Hotels in Palm Cove offer the ultimate in beachfront luxury, with the sophisticated 5-star hotel The Reef House offering only 69 rooms and suites, and the deluxe Peppers Beach Club & Spa overlooking the beach. It's not all top-end, however, which is great news if you're looking for an affordable family holiday. Palm Cove accommodation also includes a good range of mid-range holiday apartments, offering the convenience of self-catering and laundry facilities.
Where to stay at Palm Cove
Most of the hotels in Palm Cove are dotted along Williams Esplanade – as you'd expect, because this street runs parallel to the beach and the wide oceanfront promenade. If you are taking the self-catered option and don't want to travel too far to pick up supplies, note that Palm Cove shopping village is tucked away off Williams Esplanade just north of French Street. There is also a handful of 3- to 4-star hotels and beach houses in the blocks further back from the beach.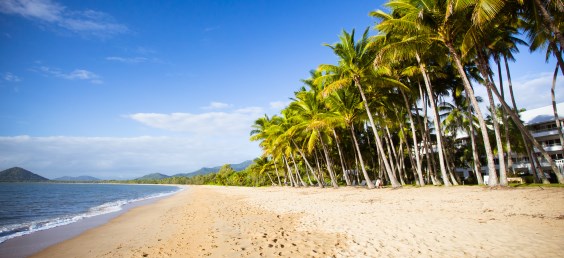 Best time to stay at Palm Cove
Palm Cove, like all of Tropical North Queensland, has two seasons: wet and dry. The summer months can be humid and are more prone to storms. Winters are very mild and June is the coolest month, with an average minimum temperature of 21 degrees Celcius (or 71 degrees Fahrenheit). It's also advisable to talk to your travel expert about the local precautions taken during stinger season from November to May/June, although rest assured every resort in Palm Cove has a swimming pool and there are plenty of waterfalls in the rainforest to cool you down.
Getting around Palm Cove
The entire length of the Palm Cove beachfront is only around 1.5 kilometres in length, so getting around is no problem on foot. There's also a walking or cycling track to neighbouring Clifton Beach, which is about a 30-minute walk away.
Accommodation The Easy Way
What's the simplest way to arrange your accommodation in Palm Cove? Let one of our travel experts do it for you! As well as access to all the latest deals, they have insider hints, tips and a wealth of travel experience to draw on... and they love to create amazing holiday packages.
Popular Destinations in Queensland