The world's most visited city and unofficial capital of romance doesn't skimp on hotel quantity or quality, with Paris accommodation brimming with boutique apartments, ultra-chic modern hotels, old-style elegance and luxury stays beyond your wildest dreams.
From the 1st arrondissement to the 20th, hotels in Paris offer something for every kind of traveller. Take a look through our introduction to Paris accommodation, below.
Compare Cheap Paris Hotel Deals
Choose your style of Paris hotel
Luxury is in no short supply in Paris, with all kinds of 5-star hotels such as the decadent Shangri La Paris and the elegant 18th century-styled Le Bristol. If you're planning an extended stay or would rather save a little extra cash for shopping, Paris apartment hotels are a great option, and feel very much like you're renting an apartment in the city.
Whether a beautifully furnished studio or family-sized dwelling with full kitchen facilities, there are plenty of Paris apartments hotels and self-catered apartments to choose from, including the 3-star Citadines Bastille Marais and the 4-star Citadines Saint-Germain-des-Pres Paris.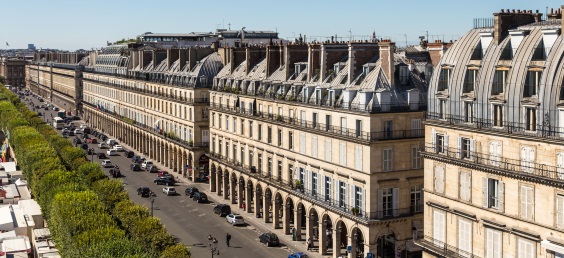 Where to stay in Paris
If you're dreaming about a Paris hotel that's surrounded by grand museums, palatial chapels and perfectly manicured gardens, head to the 1st arrondissement. Staying in this neighbourhood gives you the ability to see the city by foot with easy access to the metro for wider wandering.
For a feeling of medieval Paris with its cobblestone streets and authentic, historic charm, Le Marais district is where to find your hotel, with the 4-star Les Jardins du Marais conveniently located along rue Amelot. Part of the charm of Paris is knowing there are hidden gems waiting to be discovered all over the city.
Best time to stay in Paris
The City of Lights is magnificent at anytime of year and each season has its own unique charm. Springtime (especially April and May) is beautiful, when the cherry blossoms are out and the queues aren't quite so long. While summer is busy, Paris is buzzing at this time of year, and the longer days give you plenty of time to pack a lot in.
Autumn is stunning, as the leaves turn gold and the temperature starts to drop, while winter is quieter and particularly picturesque when Paris receives a dusting of snow.
Getting around Paris
As one of the most popular cities in Europe, Paris is quite accustomed to crowds, and offers a number of ways to get around. The Metro is easy to navigate and is also linked to the RER (Reseau Express Regional) suburban train line which is faster, but with fewer stops. Bicycle is also a great way to get around, with an increasing number of bike lanes, bike sharing schemes and bike rental options.
For the scenic route, you can take a ferry along the Seine; taxis and hire scooters are another option; and walking is always a fascinating way to get around Paris. Don't even think about driving – traffic is heavy, parking is scarce and navigating the streets can be complicated. For day trips, however, hiring a car is a good option, and the best idea is to arrange your pick-up at the city fringe.
Accommodation The Easy Way
What's the simplest way to arrange your accommodation in Paris? Let one of our travel experts do it for you! As well as access to all the latest deals, they have insider hints, tips and a wealth of travel experience to draw on... and they love to create amazing holiday packages.