Once known for its red light district, Pattaya is casting off its shady legacy and is fast reinventing itself as one of Thailand's most family-friendly destinations. Some of the best Pattaya accommodation can feel like it's a world away from the nightlife hub – it all depends what you're looking for.
Nearby beaches such as Jomtien Beach offer a quiet beach as well as close proximity to a host of new attractions such as Underwater World Pattaya and Cartoon Network Amazone Waterpark. Take a look at our introduction to accommodation in Pattaya, below.
Compare Cheap Pattaya Hotel Deals
Choose your style of Pattaya hotel
Pattaya hotels offer everything from basic rooms in the heart of the party district to deluxe suites in familiar international favourites such as the Hilton, Mercure, Hard Rock, Movenpick, Pullman and InterContinental. Pattaya has its share of boutique and design hotels, such as the 4-star Siam @ Siam Design Hotel, while travellers on a budget may prefer the affordable hotels such as the Ibis Pattaya and Centra Maris Resort Jomtien.
Where to stay in Pattaya
Finding the right area in Pattaya for your holiday will help you create the getaway you've been looking for. Toward the southern end of Pattaya Beach is where you'll find more of the exuberant nightlife. If you're not after a wild time, head to North Pattaya which is a little more upmarket, and where you'll find hotels like the Centara Grand Mirage Beach Resort Pattaya, for example. Further south of Pattaya Beach is the laid-back resort area of Jomtien Beach, a favourite with families. Wong Amat, to the north, has possibly the nicest beach the Pattaya region and is also a great spot for families.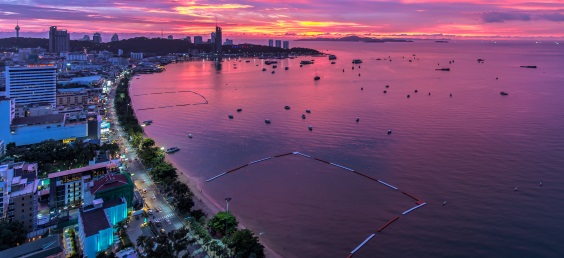 Best time to stay in Pattaya
Taking into consideration its weather and popularity, the most agreeable time to stay in Pattaya is from November to early December and then from mid January through March. That's either side of peak season. Things really wind down after the Songkran Festival in April. From here through to October the weather turns hot and humid, with plenty of rain and the possibility of flooding in some areas.
Getting around Pattaya
Often called 'Baht buses', the most common way of getting around Pattaya is a 'song thaew', which is a blue, open-air bus which charges a low fare for travel on popular routes. Taxis are also great if you're travelling more than a couple of blocks, but you'll have to negotiate a price with the driver.
Accommodation The Easy Way
What's the easiest way to arrange your accommodation in Pattaya? Let one of our travel experts do it for you! As well as access to all the latest deals, they have insider hints, tips and a wealth of travel experience to draw on... and they love to create amazing holiday packages.
Talk to a travel expert and personalise your trip