As one of the world's most dynamic transport hubs with around 7,200 flights landing or departing from Changi Airport each week, there's no shortage of choice when it comes to Singapore accommodation. From neat and comfortable business hotels near the financial district, to cheap and cheerful hostels around Clarke Quay or the city's super-luxurious 5-star offerings, Singapore has every style of hotel covered.
Take a look at our round-up of Singapore accommodation, below.
Compare Cheap Singapore Hotel Deals
Choose your style of Singapore hotel
The range of accommodation in Singapore is quite impressive. At the top end, the Marina Bay Sands is the triple-towered, 2,561-room resort that dominates the Singapore skyline. With its colonial heritage, Singapore also offers a fine choice of boutique hotels and villas, some located in restored, highly-sought after black-and-white colonial garrisons from the 1920s or heritage shophouses, which are unique to Singapore. Amongst all Singapore hotels, the business hotel is one of the most popular. Being the global financial powerhouse that it is, Singapore does a fine job in accommodating business travellers with well-located, affordable, business-oriented hotels. Serviced apartments, 2- and 3-star hotels as well as clean and tidy hostels are also readily available in Singapore.
Where to stay in Singapore
If you're in Singapore on business, chances are you'll need to be in fairly close proximity to the financial district, or CBD, which is centred around Raffles Place. Travelling with kids? Sentosa Island is very family-friendly, as are the hotels in the area such as W Singapore – Sentosa Cove and Shangri-La's Rasa Sentosa Resort & Spa. For some historical charm, the Colonial District is one of the most popular places to stay, with the grand old Raffles Hotel the district's most famous building. If you're in Singapore to shop, position yourself near the famous Orchard Road shopping mall or if you want to be near some quality green space, accommodation near the Singapore Botanic Gardens could be just what you need. Budget accommodation is readily available in and around Little India, as well as the Geylang district between the airport and the CBD.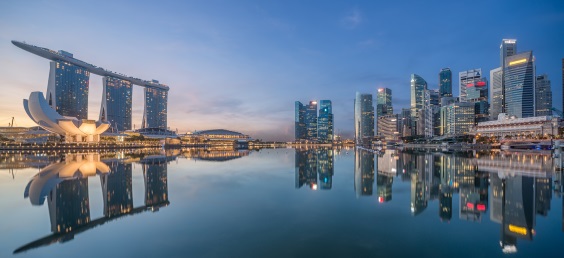 Best time to stay in Singapore
Anyone who's stepped out of the air-conditioned comfort of Singapore's Changi Airport will tell you that this city is hot and humid. And due to its proximity to the equator – just one degree north, around 137 kilometres ­– Singapore's climate stays like that pretty much all year round. The wettest months in Singapore are from November to January while the driest months – June, July and August – are also the busiest. Weather aside, Singapore has a huge range of festivals and events all throughout the year.
Getting around Singapore
The best way to get around Singapore is on the Mass Rapid Transit (MRT) subway system which runs underground in the inner city and emerges overground as it fans out to the suburbs. It is the easiest, quickest and most convenient way to get around, operating throughout Singapore from 5.30am to midnight. Buses are also a good option, similarly clean, comfortable and efficient. If you're looking for a taxi, the best place to pick one up is from a designated taxi rank.
Accommodation The Easy Way
What's the simplest way to arrange your accommodation in Singapore? Let one of our travel experts do it for you! As well as access to all the latest deals, they have insider hints, tips and a wealth of travel experience to draw on... and they love to create amazing holiday packages.