Fiji is an idyllic island paradise, located amongst the sweeping reefs of the South Pacific; it's the perfect destination to unwind from the pressures of modern life. Make the most of your Fiji experience by signing up for a guided tour and uncover even more island delights. Here at Flight Centre, we have a range of tours that ensure you leave the country with cherished memories and a better understanding of the local ways of life. 
Don't miss these Fiji attractions
Day cruises around the islands
Snorkelling and scuba diving excursions
A Kava ceremony at a local village
Escaping to the Mamanuca Islands
Sigatoka Town shopping tours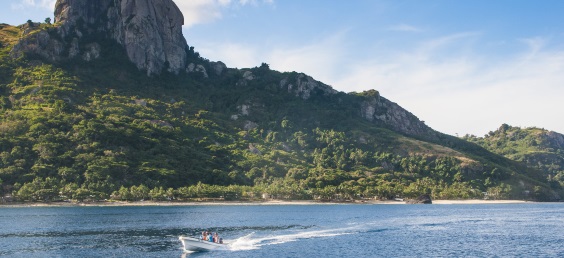 Island hopping
A guided tour gives you the opportunity to delve further into the incredible natural beauty of the region, further afield from the capital of Suva. On offer is a day cruise to the beautiful Tivua Island. A snorkelling or diving expedition takes you out onto the reef to admire the incredible marine life, while revelling in the cool temperatures of the glassy water.
The adventurous will appreciate an adrenalin-inducing jet boat ride or the wide range of other water sports at any of the popular beaches. You can also spend the evening on a luxury cruise liner appreciating the extra pampering while enjoying traditional shows onboard. 
Explore the unique terrain
Fiji also has plenty of great attractions on land. Soar through the treetops on an exciting jungle zipline tour and spot majestic wildlife such as parrots and flying foxes. For more on-land action, check out the Naihehe Cave or take a Sigotoka River safari to visit authentic villages.
Villages such as Nakavu extend a hand to travellers and offer insight into their fascinating customs. Relax into island life while gliding over rivers on a traditional long boat, or try your hand at bamboo rafting and even swim at the serene Nakavu waterfall.