Hawaii is a dream destination for all kinds of reasons. It's a honeymooner's paradise, a surfer's rite of passage, an adventurer's playground – and absolute heaven for families. Likewise, Hawaii accommodation comes in all shapes and sizes, from 5-star beachfront hotels on Oahu, to delightfully simple places to lay your head after a full day exploring.
No matter what has drawn you to these beautiful islands, there are myriad hotels in Hawaii to help you create an incredible holiday. Check out our guide to Hawaii accommodation below.
Compare Cheap Hawaii Hotel Deals
Choose your style of Hawaii hotel
Hawaii is known for its hotels right on the beach, like Outrigger Waikiki Beach and Outrigger Reef Waikiki Beach. If the big, iconic Hawaii hotel is what you're looking for, you won't be disappointed. There are countless options which offer show-stopping views, amazing pools, fantastic hotel restaurants – all within a short stroll of the beach. If you're after an alternative to the well-known Hawaii hotels, you'll find plenty of choice here too. Other accommodation in Hawaii includes the secluded beach bungalow, boutique hotel, couples-only hotels or family-friendly resorts.
Where to stay in Hawaii
Where should you stay in Hawaii? That's all down to what kind of holiday you're looking for. Oahu is the most popular, with its world famous Waikiki Beach, extinct crater Diamond Head, USS Arizona Memorial at Pearl Harbour and surfing heartland off the North Shore which includes epic surf breaks like the Banzai Pipeline. Maui is home to stunning beaches, Hawaii's tallest volcano, and Kaanapali Beach Hotel – one of the best family hotels in Hawaii; Hawaii The Big Island, is the place to go for adventure, with opportunities to hike active volcanoes or go horse riding with a paniolo (Hawaiian cowboy); and Kauai, the 'Garden Isle' is where you'll find some of the most dramatic scenery in the South Pacific.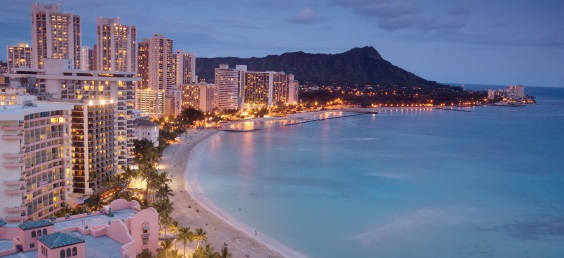 Best time to stay in Hawaii
In terms of weather, almost any time of year is a great time to visit Hawaii – it all depends what you want from your holiday. For example, whale watching is from November to April; north shore surf conditions are better from October to April; and the best snorkelling is in the summer. There is slightly more rainfall in winter, but temperatures remain pleasant all year round. High season in Hawaii runs from December through April, and also from June through August.
Getting around Hawaii
As a string of eight islands, inter-island travel is common in Hawaii. There are plenty of regular flights, but make sure you book in advance in peak season, and take note of the baggage allowance on smaller planes. If you really want to explore Hawaii, renting a car is one of the best options. Oahu is the easiest island to get around without a car.
Accommodation The Easy Way
What's the simplest way to arrange your accommodation in Hawaii? Let one of our travel experts do it for you! As well as access to all the latest deals, they have insider hints, tips and a wealth of travel experience to draw on... and they love to create amazing holiday packages.
Popular Destinations in United States