With reputedly more than 120,000 hotel rooms in this larger-than-life city, Las Vegas accommodation offers something for everyone. From dazzling luxury hotel rooms to expansive family suites closer to the shops than the casinos, you'll find that just about every Las Vegas hotel is more lavish than you expect – after all, the luxury experience is what Las Vegas does so well.
Take a look at our introduction to Las Vegas accommodation, below, and find out what's possible, no matter what your holiday budget may be.
Compare Cheap Las Vegas Hotel Deals
Choose your style of Las Vegas hotel
Hotels in Las Vegas range from the simple and economical to the eye-wateringly expensive. Most hotels fall somewhere in the middle. If you'd rather spend more of your holiday dollars on entertainment than accommodation, the 3-star Excalibur Hotel and Casino is a great-value choice, as well as being very family-friendly. Good 4-star Las Vegas hotel options include the iconic MGM Grand and quirky New York New York, while for 5-star opulence you can't go past the iconic Bellagio or the luxurious Wynn Las Vegas.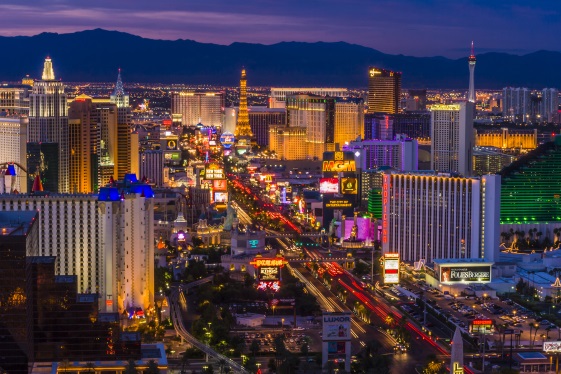 Where to stay in Las Vegas
If you're looking at staying along The Strip, the northern end is – generally speaking – more geared towards adults than the southern end, which has more shopping and non-casino attractions, making it great for families. The Downtown area of Las Vegas is located around Fremont Street, and has more of a local vibe. Here the casinos are closer together so you really can casino-hop if you want to, whereas on The Strip it's sometimes quite a walk between each one. Prices are generally a little cheaper in the Downtown area than on the glitzier Strip.
Best time to stay in Las Vegas
Las Vegas is a party destination almost all year round, however some times are better to visit than others. The shoulder seasons of spring (March to May) and autumn (September to November) offer the mildest weather, when it's not too cold or not too hot. The winter months are particularly busy, with New Year's Eve seeing an influx of more than 300,000 visitors. Las Vegas is also known for its big events and conventions so try to avoid these. Also worth noting is that with Las Vegas a popular weekend destination, which means there's greater availability of rooms and show tickets if you stay mid-week.
Getting around Las Vegas
Apart from walking around Las Vegas (which leans more towards 'entertainment' than mere transport sometimes), there are several other, easy options. Buses run regularly up and down the strip, while resorts located a block or two away will mostly likely run shuttle buses to The Strip for guests. The Las Vegas Monorail links some Strip casino resorts, and while taxis and limousines are plentiful, it's illegal to hail them on the street so wait at the taxi stand instead. Trams run between some casinos and, of course, for anything further afield such as a day trip, you'll either need to book a tour or hire a car.
Accommodation The Easy Way
What's the simplest way to arrange your accommodation in Las Vegas? Let one of our travel experts do it for you! As well as access to all the latest deals, they have insider hints, tips and a wealth of travel experience to draw on... and they love to create amazing holiday packages.
Popular Destinations in United States