As one of the coolest neighbourhoods in Bali, you'd expect Seminyak accommodation to be impressive – and it is. Some of the most popular hotels in Seminyak are exclusive, beachfront destinations, while Seminyak's creative, designer vibe really comes to life in the backstreets, where you'll find an abundance of luxury, boutique hotels and private villas.
This part of Bali feels like the sophisticated, grown-up version of Kuta, and after checking in to your chosen Seminyak hotel, you'll feel like one of the (stylish) local crowd in no time.
Compare Cheap Seminyak Hotel Deals
Choose your style of Seminyak hotel
Hotels in Seminyak are primarily all about luxury, and attract guests that range from cool-hunting 30-somethings to families and the occasional incognito celebrity. Options include 5-star beachfront resorts, boutique hotels and decadent hideaways such as the private villa. While Seminyak accommodation is all about premium style and comfort, you can find affordable hotels in Seminyak as well and budget-friendly villas such as the 4-star Tony's Villas. Seminyak's best budget hotels are sprinkled throughout the cosmopolitan neighbourhood, still within easy reach of the area's boutique shopping and excellent nightlife.
Where to stay in Seminyak
Deciding where to stay in Seminyak can come down to whether you need to be close to the beach or if an inviting crystal clear resort pool will do. Beachfront hotels in Seminyak have both, of course, although the private villas and boutique hotels set away from the beach are closer to some of Seminyak's other attractions, such as popular restaurants or shopping streets. Many of the beachfront hotels in Seminyak lie along Jalan Kayu Aya, part of which runs parallel to Petitenget Beach, as well as along Jalan Arjuna, also known as Jalan Double-Six, after the palatial Double-Six Luxury Hotel. Do you need your Seminyak accommodation to offer sunset views over the Indian Ocean or are you more than happy in a chic, private sanctuary? It's up to you.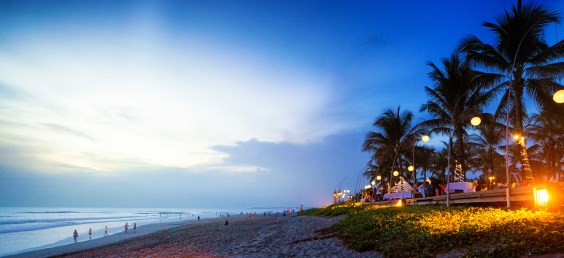 Best time to stay in Seminyak
Like greater Bali, Seminyak's high season is during holiday periods such as Easter and Christmas, as well as during the months of July and August when it can get quite busy. The best time to visit Seminyak is anytime from April to June, as well as September. During this time, the weather is still quite dry and there's slightly less humidity in the air. Bear in mind, however, that Seminyak has a warm and tropical climate all year round.
Getting around Seminyak
Seminyak lies just north of Legian and Kuta, although it's not easy to determine where one village ends and the other one starts. The best way to get around Seminyak is either on foot, by taxi, or to hire a motor scooter. In between the main streets of Seminyak you'll find a network of smaller alleyways, or 'gangs', which are quite difficult to access by car. If you're staying at one of the private villas, you may be lucky enough to have a chauffeur driven car at your service, for trips into the village.
Accommodation The Easy Way
What's the simplest way to arrange your accommodation in Seminyak? Let one of our travel experts do it for you! As well as access to all the latest deals, they have insider hints, tips and a wealth of travel experience to draw on... and they love to create amazing holiday packages.
Popular Destinations in Indonesia