Surfers Paradise accommodation puts you right in the heart of one of Australia's most exciting holiday destinations. Whether you want to go all-out with a luxury suite in one of the fanciest hotels on the strip, or settle in for an extended stay in a comfortable and family-friendly self-contained apartment, you'll find plenty of options in this, the party hub of the Gold Coast.
Check out our guide to Surfers Paradise accommodation, below.
Compare Cheap Surfers Paradise Hotel Deals
Choose your style of Surfers Paradise hotel
One soaring beachfront hotel after another characterises Surfers Paradise accommodation, with a variety of hotels and resorts in between. The big appeal of the 5-star hotels is not just the sweeping views of the Pacific Ocean and the luxurious suites and rooms, but the close proximity to the beach (and nightlife). Surfers Paradise is also hugely popular with families, and this bustling patch of the Gold Coast is brimming with self-contained holiday units and serviced apartments. This style of accommodation gives you the chance to enjoy a quality, family beach holiday without the added costs that come with 24-hour reception or room service.
Where to stay at Surfers Paradise
Cavill Avenue is the spiritual heart of Surfers Paradise due to its abundance of bars, restaurants, clubs and shopping. If you want to be in the thick of the action, there are plenty of nearby hotels to choose from. Refreshingly, staying right on the beachfront is not limited to the 5-star hotels, with some 3- and 4-star hotels in Surfers Paradise occupying this prime position. If 5-star is your thing, seek out the luxury hotels which are dotted throughout Surfers, with Surfers Paradise Marriott Resort at the northern end and Q1 Resort & Spa about four blocks south of Cavill Avenue.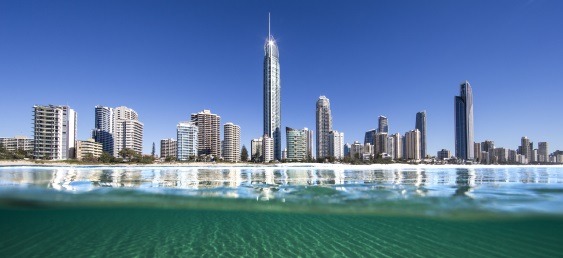 Best time to stay at Surfers Paradise
Pretty much any time is a great time to stay at Surfers Paradise, except during Schoolies Week – unless, of course, you're a Schoolie. When the school year ends in late November, a week-long party at Surfers Paradise is still seems to be a rite of passage, although school leavers are increasingly choosing to party elsewhere. In terms of weather, Surfers Paradise enjoys around 300 sunny days a year, with mild winters and hot summers. And so many theme parks and entertainment options nearby, even if it does rain, you certainly won't be bored.
Getting around Surfers Paradise
Spanning a relatively compact area, Surfers Paradise is easy to get around on foot. If you're travelling from one end to the other, taking the bus is an easy option, and you'll need the 'go explore Gold Coast' card for Translink's Surfside Buslines. G:link is the Gold Coast's light rail service, or tram, which runs through Surfers Paradise, and taxis are always an easy option as well.
Accommodation The Easy Way
What's the simplest way to arrange your accommodation in Surfers Paradise? Let one of our travel experts do it for you! As well as access to all the latest deals, they have insider hints, tips and a wealth of travel experience to draw on... and they love to create amazing holiday packages.
Talk to a travel expert and personalise your trip