Patong Beach is Thailand's undisputed party town, unashamedly worshipping fun in the sun and nightlife that lasts from dusk till dawn. Accommodation in Patong Beach ranges from the most basic hostels and hotels in which you can sleep off the previous night's activities to luxury beachfront villas that provide some respite from the wild ways of Bangla Road.
Below you'll find our guide to Patong Beach accommodation.
Compare Cheap Patong Beach Hotel Deals
Choose your style of Patong Beach hotel
If you came to Patong Beach to party, there are loads of budget-friendly guesthouses and hostels to choose from. Take your pick of the most basic rooms to good-quality mid-range hotels such as the 4-star Kee Resort, which is just a 2-minute walk to Patong Beach and a 5-minute walk to the nightlife in Bangla Road. If you want the best of both worlds – the party scene and the comfort of luxury accommodation away from the hustle and bustle – you can find that too. Patong Beach also offers exquisite accommodation along the coast, such as the deluxe Amari Phuket.
Where to stay in Patong Beach
The heart of the action in Patong Beach is along Bangla Road, and fanning out from here you'll find a plethora of accommodation options that put you within easy reach of both beach and nightlife, such as the 4-star Patong Merlin Hotel. If you want to dip into the party scene but prefer to base yourself away from the busiest clubs, several beachfront hotels in Patong Beach will entice you, such as Phuket Graceland Resort & Spa or the comfortable and family-friendly Seaview Patong Hotel. Further away from the party strip you'll find the more exclusive resorts such as the Burasari Resort or Phuket Marriott Resort & Spa at neighbouring Merlin Beach.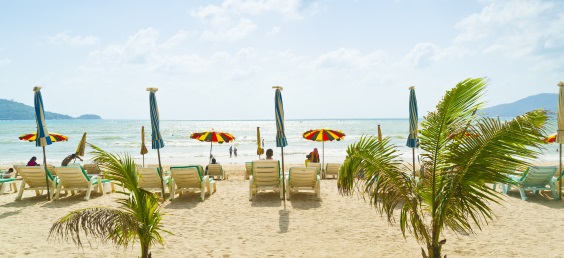 Best time to stay in Patong Beach
From late November through to February is the driest time in Patong Beach and also peak season. Also in November sea clarity improves and the unofficial scuba diving season starts. March is a good month to consider staying in Patong Beach, as the peak season starts to tail off but the days are still mostly dry and the skies sunny, with the rains starting to become more frequent in April and throughout June to September. October can also be a good time to visit, as the rains tail off before peak season hits.
Getting around Patong Beach
Covering quite a compact area, Patong Beach is easy to get around. The bright blue, local open-air buses (song taews) run regularly between 7am and 6pm, and the best place for catching one in Patong Beach is on the beach road, outside the tourist police box. Tuk tuks and taxis are other options, but make sure you're a good negotiator and be sure to agree on a price before setting off.
Accommodation The Easy Way
What's the easiest way to arrange your accommodation in Patong Beach? Let one of our travel experts do it for you! As well as access to all the latest deals, they have insider hints, tips and a wealth of travel experience to draw on... and they love to create amazing holiday packages.
Talk to a travel expert and personalise your trip