As relaxing island retreat and party capital all rolled into one, accommodation in Phuket covers a large spectrum. If you've come for fun in the sun, hotels in Phuket know how to deliver on what makes a good holiday.
If you're seeking quieter parts of the island, you'll find these too, with family-friendly resorts and some of Thailand's most luxurious hotels and private villas located in Phuket or smaller islands just off its coast. Check out our round-up of Phuket accommodation, below.
Compare Cheap Phuket Hotel Deals
Choose your style of Phuket hotel
The coastlines of Phuket are brimming with resorts, villas and 5-star hotels all capitalising on the spectacular beaches that this Thai island has to offer. Hotels in Phuket range from hostels and tidy budget options set away from the beachfront to epic top-end resorts, such as Como Point Yamu, Banyan Tree Phuket, The Shore At Katathani and The Slate, on Nai Yang Beach – each so deluxe, you'll have to pinch yourself every morning.
Where to stay in Phuket
To get the best value out of your Phuket accommodation, head to Phuket Town for guesthouses, hostels and hotels. While you may not be on the beachfront here, buses do a shuttle to the beaches so you won't have any difficulty taking a dip in the sea. Families and anyone who likes the all-inclusive, resort-style of holiday will find a good choice of mid-range resorts, villas and hotels in Rawai, Karon, Kata and Kamala. Venture slightly further north for the 5-star resorts, in areas such as Ao Bang Thao and Surin, or on Naka Yai Island.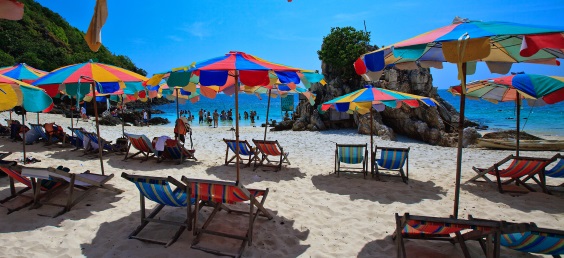 Best time to stay in Phuket
Phuket enjoys a tropical climate which means the weather varies between warm, slightly cooler, and rainy. November to February is the coolest season with the best weather, coming after the monsoon rains have ended. It's also the most popular time to visit, so you can expect to be amongst a whole lot of like-minded people visiting Phuket at this time of year. March is a good time to visit, at the end of peak season. Mid-May to October is monsoon season, although it's rare for the island to get continuous days of heavy rainfall. This is the quietest time of year to experience Phuket.
Getting around Phuket
If you're wanting to wander further around Phuket than from your resort pool to the beach, taxis are still one of the best ways to travel. They can be overpriced, however, so make sure you settle on an agreed fee first. The bright blue, local open-air buses (song thaews) give you another option, and run regularly between 7am and 6pm. Tuk tuks are yet another alternative, although these too can be overpriced.
Accommodation The Easy Way
What's the easiest way to arrange your accommodation in Phuket? Let one of our travel experts do it for you! As well as access to all the latest deals, they have insider hints, tips and a wealth of travel experience to draw on... and they love to create amazing holiday packages.
Talk to a travel expert and personalise your trip