From the family-friendly beaches of Caloundra to the pristine beauty of Noosa Heads, Sunshine Coast accommodation offers comfortable, relaxing stays all over this stunning region of South East Queensland. The Sunshine Coast is not just all about sun, sea and sand either, with the Sunshine Coast hinterland giving you the chance to escape to green rolling hills and enjoy the village atmosphere of towns like Montville and Maleny.
For an introduction to hotels on the Sunshine Coast, check out our guide to Sunshine Coast accommodation, below.
Compare Cheap Sunshine Coast Hotel Deals
Choose your style of Sunshine Coast hotel
Are you wanting a romantic, 5-star getaway in Noosa, somewhere for a fantastic group holiday at Christmas or some beachside family time? Sunshine Coast accommodation ranges from super-deluxe resorts and eco retreats to simple, budget-friendly beach houses and seafront hotels. For something a little different, your Sunshine Coast hotel could take the form of a cosy hinterland B&B, complete with misty mornings and a roaring fire every night.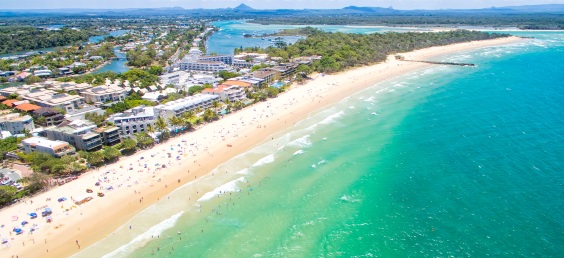 Where to stay on the Sunshine Coast
The Sunshine Coast has its different flavours and where you stay all depends on what kind of holiday you're looking for. Sunshine Coast accommodation at Noosa ranges from the very top end, like the 5-star Peppers Noosa Resort and Villas, to simple 3- and 4-star waterfront lodgings along the river at Noosaville. Down the coast, from Sunshine Beach to Mooloolaba, you'll find more 3- and 4-star hotels with ocean views and good beach access. Caloundra is regarded as an ideal family destination due to its choice of beaches, from the toddler-friendly Bulcock Beach to popular surf spot, Kings Beach. Sunshine Coast hinterland destinations that offer a tempting mountain getaway include Maleny, Montville, Flaxton and Mapleton.
Best time to stay on the Sunshine Coast
Weather on the Sunshine Coast is warm year-round, with some of the highest sunshine levels in the world. Seasonal variations are minimal, so it's an ideal place to holiday any time of year. Summer is a very popular time, coinciding with the Australian end-of-year school break, so it's wise to book as early as you can. Winters can be very mild but can get a little chilly up in the hinterland, which is why the cosy cabins and mountainside retreats are so appealing.
Getting around the Sunshine Coast
Hiring a car is the easiest way to get around the Sunshine Coast. Officially stretching from the suburb of Pelican Waters in Caloundra to Tewantin, north of Noosa, the Sunshine Coast covers approximately 60 kilometres of coastline. That said, many of the coastal towns have accommodation that's within easy walking distance of the beach so once you settle into your hotel, chances are you might not need any transport at all.
Accommodation The Easy Way
What's the simplest way to arrange your accommodation on the Sunshine Coast? Let one of our travel experts do it for you! As well as access to all the latest deals, they have insider hints, tips and a wealth of travel experience to draw on... and they love to create amazing holiday packages.
Popular Destinations in Queensland